Workforce Skills Management
Tap the power of skills-based talent management to unleash your company's inner genius.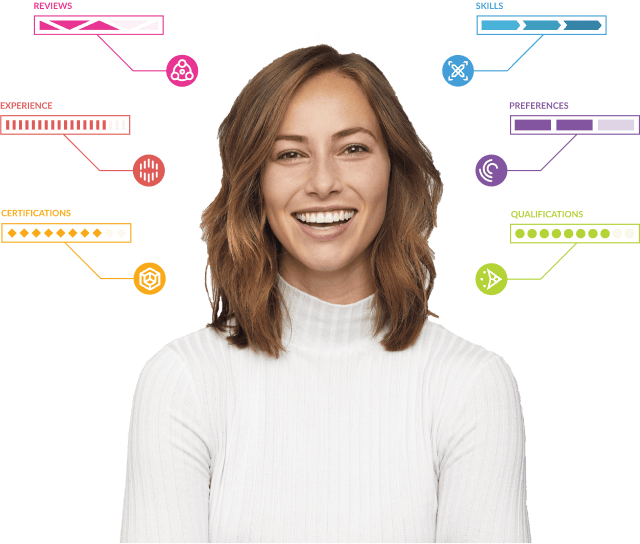 Reveal the true nature of your collective talent
You can't use what you don't see. We give you a clear, actionable view of your company's skills, roles, and pathways, so your people can develop their talents, put them to work, and achieve greatness together.
Our platform is built on three core pillars that will take your talent management to the next level.
Clarity through structure
Make sense of complex information about your team with automated insights based on carefully crafted career architecture.
Confidence through objectivity
Get impartial, validated information and insights on every individual, so you can move forward with confidence.
Resilience through adaptivity
Be ready for opportunities and challenges among your people, whenever they might appear.
Take your company to greater heights
Strong talent management can transform your company from the inside out, helping it achieve impossible goals and become a place people love to work.
Maximize career experience
Webinar
Career Pathing and Talent Mobility: Driving Engagement and Performance
A talent strategy that grows with you
Whether your company is grappling with talent management for the first time, looking to modernize outdated tools, or searching for that extra competitive edge, our solution can meet you where you are.
Competency Management
Our AI-driven software reveals the talent that exists in your company today and how it measures up against the benchmarks that matter.
Talent Assurance
Make talent development second nature. Our platform helps employees master their roles and perform optimally in the flow of work.
Workforce Enablement
Help your employees proactively navigate their careers and enable your company to plan smooth transitions in leadership and strategic direction.
"TalentGuard's software was the only product on the market capable of assessing our employees on our deep skill grids assessments."
Harvey Greenberg
Chief of Staff and Head of Strategic Initiatives, Human Resources, Zurich Insurance North America