WorkforceGPT
Intelligent generation of job, skill and learning data
WorkforceGPT is powered by artifical intelligence, talent frameworks, and large language models that generate real-time normalized job profiles, job responsibilities, skills, behavioral indicators, and learning links based on customer and labor market data.
WorkforceGPT Skills
The dynamic nature of today's workforce and job roles necessitates frequent updates to skills and behaviors, requiring both vigilance and adaptability. Accurately defining skills is a complex process involving a deep understanding of diverse roles and their applications in various environments and the integration of both technical and interpersonal aspects aligned with organizational culture. "The great majority of employers surveyed (87%) are adding, or plan to add, some new skills requirements for up to one-half of all existing job roles, according to a Brandon Hall Group™ Study on upskilling and reskilling the workforce." This challenge is heightened globally, where cultural and geographical differences must be considered. Regularly updating these skill definitions manually is demanding in the fast-paced business world.
WorkforceGPT Skill Builder is designed to generate technical, leadership, and soft skills from scratch in seconds, complete with comprehensive definitions and behavioral indicators across four proficiency levels. This tool empowers organizations to customize and expand their skill libraries with precision and depth, fostering a more dynamic and responsive approach to talent development.
WorkforceGPT Learning
Manually building learning links mapped to skills presents a significant challenge in the modern talent development landscape. This process requires a deep understanding of the evolving skill sets pertinent to various industries and roles and an acute awareness of the learning resources available to enhance these skills. One of the primary hurdles is ensuring that the learning materials are relevant and up to date, considering the rapid pace of change in technology and industry practices. The challenge is creating these links and continuously updating and adapting them to stay aligned with the workforce's dynamic nature of skill requirements.
WorkforceGPT Learning Link Builder is an innovative feature that identifies relevant learning resources based on each skill. This intelligent tool bridges the gap between skill development and practical learning resources. It enables employees to access targeted training and development opportunities that align with their personal and professional growth objectives.
WorkforceGPT Jobs
WorkforceGPT Jobs revolutionizes the creation of job profiles by integrating cutting-edge AI technology. It's specifically designed to construct structured and skill-based job profiles, tailored to the evolving needs of the modern workforce. With WorkforceGPT Jobs, organizations can efficiently identify and articulate the specific skills, competencies, and experience required for various roles. This AI-driven approach ensures a precise match between job requirements and candidate capabilities, enhancing the accuracy of talent acquisition and internal mobility. WorkforceGPT Jobs not only streamlines the profile-building process but also aligns talent strategy with business objectives, fostering a more dynamic, skilled, and adaptable workforce.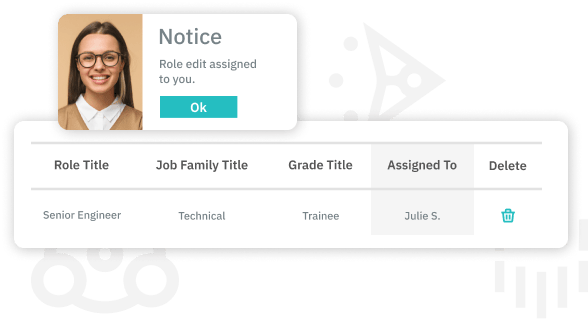 Give WorkforceGPT a Try for Free
Accelerate your job architecture, skills taxonomy or skill-to-job mapping project – Submit 10 Job Titles for us to process with WorkforceGPT. Using WorkforceGPT, we will build the job description with 4 core responsibilities, 10 technical skills with definitions, and behavioral indicators at four levels of proficiency. The data will be delivered in a spreadsheet ready to import and use. It's fast, accurate, relevant, and based on the latest industry trends.
"
As a company deeply invested in optimizing our talent management systems, we recently had the opportunity to utilize TalentGuard's workforceGPT for generating skill-based job profiles. The results were nothing short of remarkable. In less than 24 hours, TalentGuard delivered 20 highly relevant and high-quality job profiles. What impressed us the most was not just the speed of delivery, but the structured format of the profiles, which allowed us to integrate them seamlessly into our existing systems. The profiles were so well-crafted and aligned with our needs that our team acknowledged they couldn't have done a better job themselves. This level of efficiency and quality has set a new standard for us in talent management."
- Head of Learning and Development for a Fortune 100 Manufacturer