TalentGuard Product Release Plan
TalentGuard uses an agile product development methodology to plan, track and deliver high-quality sprints that meet customer's ongoing needs and market expectations. We plan our sprints to be in the best position to adapt to changes throughout the process.
2H'21-Q1'22 Product Release Plan
We value being transparent with all stakeholders. This roadmap is created based on our customer's needs and our vision for the future of Talent Management. We work diligently to stay the course with our roadmap but need to remain flexible as needs and market conditions change or escalate. The roadmap is subject to change, and we will communicate changes as they occur.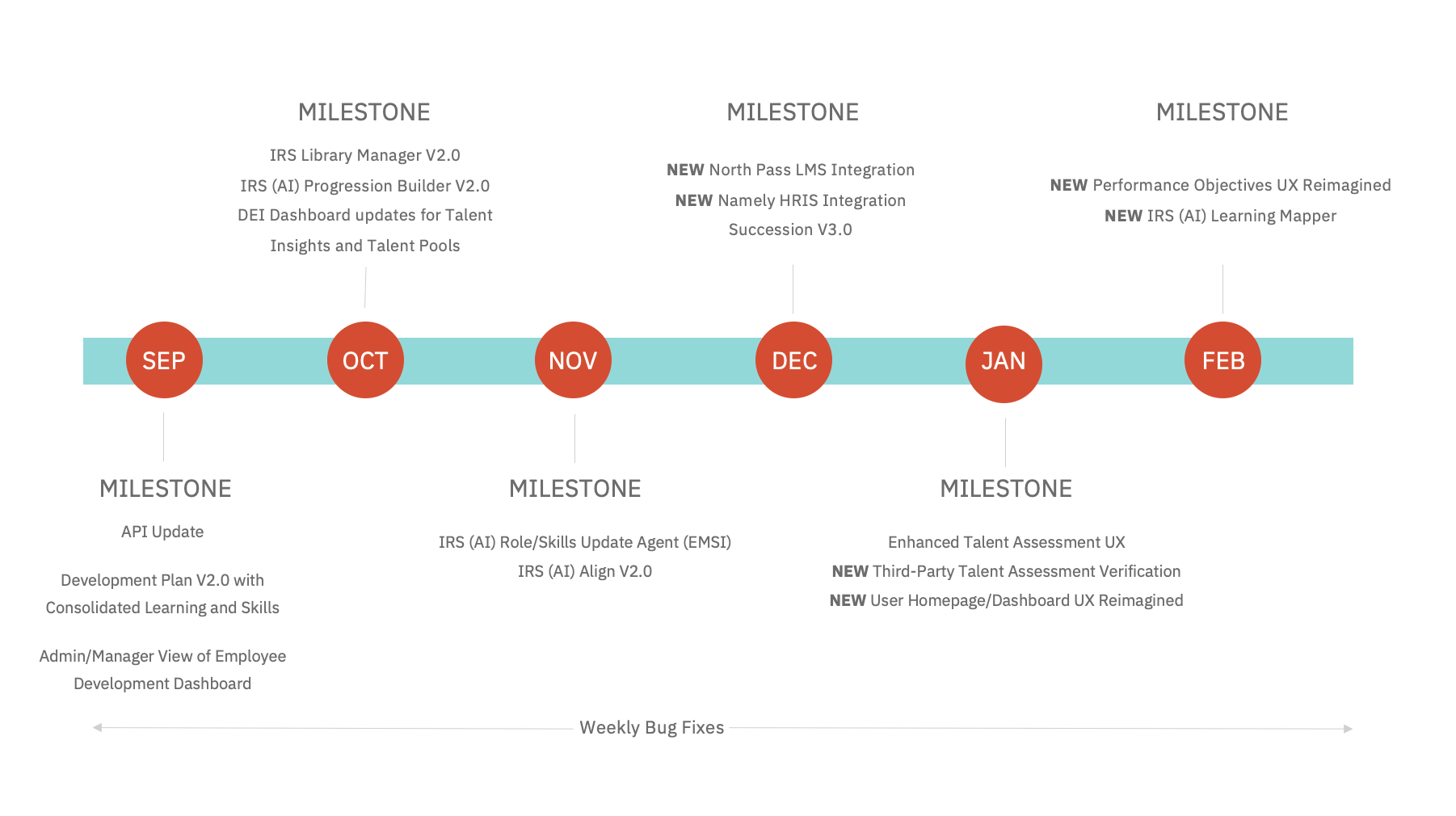 September 2021 Release:
​​​​​Development v2.0 & Platform API Update
At the end of this month we will be rolling out our Development Plan v2.0 with consolidated learning and skills for your employees personal development goals. We will also enhance the admin and manager view of the employee development dashboard. An update to our platform API will also be updated in this release.
October and November 2021 Release:
Intelligent Role Studio v2.0 & DEI Dashboard Debut
In October, we will be releasing v2.0 of our Intelligent Role Studio Library Manager and AI Progression Builder. DEI dashboards will be introduced for talent insights and talent pools.
In November, the IRS (AI) role/skills update agent will be introduced and v2.0 for aligning skill levels will be enhanced as well.
December 2021 Release: 
Succession v3.0 & New Integrations
In December, we will be releasing v3.0 for our Succession module with enhanced insights for role talent pools and sharpened workflow for admin's and managers. We will also be debuting our LMS integration with North Pass and HRIS integration with Namely.
Release Management Rhythm
Weekly
Respond to bugs and issues quickly and efficiently
Weekly high and medium bug fix release sprint as needed
Release asap for critical bugs fixes
Monthly
Prioritize customer minor enhancements and our team's backlog
Minor new enhancement epic release sprint
Top 10 customer priority minor enhancement backlog list
Quarterly
Map out customer major enhancements, our vision and align relevant teams
Major new enhancement epic release sprint
Top 10 customer priority major enhancement backlog list