Best Skills Management Software
The ready-to-use system of truth
Discover the Best Skills Management Software with TalentGuard's world-class platform. Don't let your competency data remain unused inside a spreadsheet. Get the ability to create or extend your competency frameworks, customize job profiles, assign learning and development options, govern workflow and collaborate with other talent management applications.
Create
Ability to create, edit and compare multiple competencies, including: Skills, Experiences, Qualifications and Preferences that are required for job functions.
Map
Ability to map competencies, job grades, learning resources and other data to job profiles.
Calibrate
Job Profile calibration includes adjusting the level of proficiency and importance level of associated competencies across job profiles and grade levels.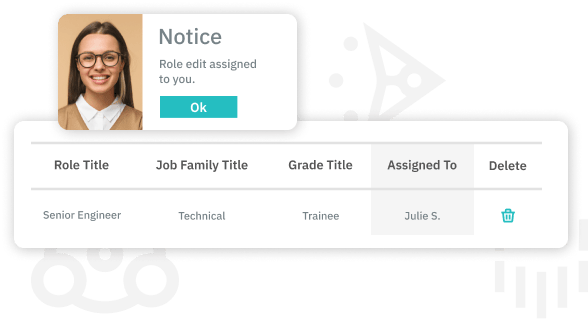 Govern
Manage entitlement, rules, roles and policies to seamlessly govern job role data.
A talent strategy that grows with you. Select a bundle to book a demo!
Recommended
Foundation
Automate your skills management process
Foundation includes:
Intelligent Role Studio
WorkforceGPT
Job and Skill Libraries
Basic Reporting
API
Basic
Assess current skills of your workforce & close gaps
All the Foundation features plus:
Talent Assessment
Development Planning
Reporting & Analytics
30+ languages
Core
Unlock employee skill & career development
All the Basic features plus:
Career Pathing
Certification Tracking
60+ languages
Pro
Measure the impact of upskilling on business performance
All the Core features plus:
Succession Planning
Performance Management
360 Feedback
Advanced Reporting & Analytics
90+ languages
Trusted by:


Additional information
Skills management software is a tool that can help your company better understand the talent present in your organization to provide better skill mapping of employees. If your company is currently growing, having a difficult time retaining employees, or finding it hard to nail down job descriptions, you will benefit from a skills database solution.
It is no small task to keep track of every employee's experience level in the entire workforce. One employee may have many different types of skills and each skill has its own proficiency level. For instance, you might have several employees who are highly proficient with specific software or platforms, but only one of those employees may have a high proficiency in the soft skills needed for a specific role.
If one employee has 30 different skills and each skill has a proficiency level, you can imagine how difficult it is to keep track of all of the skills in an entire organization. You even may not have been keeping track of your employee's skill levels at all. Not all companies utilize a skills database, but without one it can be hard to find a good replacement among your staff when someone leaves or to close skill gaps in your company.
Using skills software, you can accurately organize each of the disciplines and talents in your organization. By regularly maintaining and updating your skill database, leadership can easily allocate resources and understand personnel needs for specific projects. This streamlines the hiring process, allows management to place employees more easily, and helps develop the lifecycle and career paths for talent based on business strategies and projections.
Competency vs Skill Matrix
A competency matrix is, or should be, included in a skills matrix database. When looking at the difference between competency and skill, it's about the level of proficiency. You might have 100% of staff members who have worked with Excel. However, you might only have 10% who are experts at creating worksheets and data with this software.
The skill matrix levels allow you to assess where an employee ranks in competency. It's also helpful for the employee to see how they perform in the competency model, because it's often different from where they think they would rank. The skills matrix software gives both management and their staff a clear database that helps develop career trajectories, fill open positions, and pinpoint areas where cross-training would be beneficial.
Reskilling programs involve the training of team members on entirely new sets of skills so they are equipped to take on different roles within your organization. Companies will need to consider reskilling the workforce when people's previous tasks or responsibilities become irrelevant, often as a result of technological advances.
Skills Management System
Skills assessment software gives your company many advantages. Skill mapping tools can help your management and leadership team place employees in teams and roles where they are needed and will excel. However, there are other factors that you might not have thought of that make skills management systems hugely beneficial for companies.
For the management, a skills repository helps them to properly format job requirements and descriptions for current staff. This keeps everyone on the same page for requirements. It also gives management good oversight of the distribution of responsibilities so that they're not overloading employees.
They also can easily see what skills are needed for the position and can see when it might be beneficial to create other positions to offset responsibilities more equitably. For leadership, this software allows for an excellent overview of all staff skill levels, as well as a convenient way to understand individual employees.
Through various tools, such as skill mapping exercises and reporting features, leadership can highlight employees for promotion or succession pools, work with managers to increase job satisfaction, and work to build a more cohesive team environment. For employees, this software is also beneficial. They are offered skills assessments that can showcase aptitude and clearly highlight which skills they need to master in order to move to the next step on their career path.
Without some sort of skills repository, management is often unaware of the exact skill set that exists within their team. This means missed opportunities and resources. With a database of information, management has all of the tools necessary to understand their employees and engage with them to help their growth, as well as the company's continued progress. The database helps the company retain great talent by offering more opportunities for advancement and development.
Employee Skills Management Software
Management of a large team is intricate and nuanced. You need to understand hard skills, soft skills, and a certain number of intangibles. You want to get the culture and personal fit just right, but you also need to make sure that the candidates have the correct skill set to flourish professionally and contribute in a meaningful way. This can be a large undertaking, but a job skills database gives your HR team an overview of exactly what experience is needed for an existing role and where there are skills gaps that might be useful to close for the team.
HR can benefit from this database by creating and launching training initiatives to benefit current staff. Managers can use this information to work with employees, develop opportunities for versatile staff to support other departments, and help team members map their future growth with the company. Remember, the skill an employee starts with isn't their full potential. Employees want to grow and learn with your team, and this level of insight can help leadership create opportunities for staff.
You can create an employee skill database template using a data sheet, but this is a time-consuming process and can be difficult to update. With a user-friendly software solution, it's simple and effective to update the information in real-time. You can also offer assessments and certification opportunities to staff, which will then update their records within the database automatically.
For employees, these tools allow a comprehensive way for them to plan their future careers. They can easily see which skills they need to develop to move in the direction they'd like to go. For instance, if you have an entry-level worker who wants to eventually move into management, they can see an overview of the individual skills they need to obtain in order to achieve their desired professional growth.
Overall, your best skills management software is the provider that helps management allocate resources and gather insights for future growth. It should support employees as they obtain the professional training they desire. And it should offer excellent customer support for every member of your team.
If you're looking for a software solution that meets all of these requirements, request a demo to see what TalentGuard can do for your team.