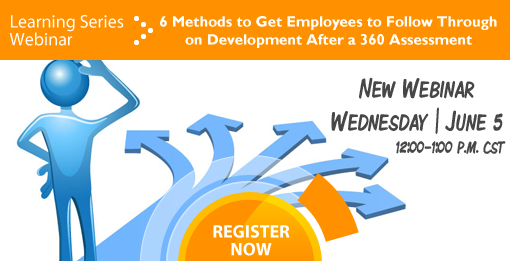 New Learning Series Webinar – 6 Methods to Get Employees to Follow Through on Development After a 360 Assessment
Implementing a formal development plan after a 360 degree feedback program can be a major issue facing HR and line managers. Employees are typically reluctant to share the final report with management because they fear it may negatively impact working relationships. In this webinar, you will learn 6 methods to get employees to follow through on development:
Establish clear expectations before, during and after a 360 program
Ensure best practices during the debriefing process
Set clear expectations with managers on their role in the 360 development process
Incorporate development options directly into the 360 report based on specific competency gaps
Implement a formal coaching process to ensure on-going feedback between managers and employees
Measure the 360 Feedback process regularly to ensure development gaps are shrinking
Join TalentGuard Solutions experts on Wednesday, June 5th from 12:00-1:00pm cst for this special webinar on development after 360 assessments.
Corporations need to alter their internal career development strategy
We visit with 60 people a week for career management services.  The one theme that is consistent accross all of the people who visit with us is that they are dissatisfied with their work and employer.  People are dissatisfied for a variety of reasons include: hating their career choice hitting the glass ceiling being overlooked […]