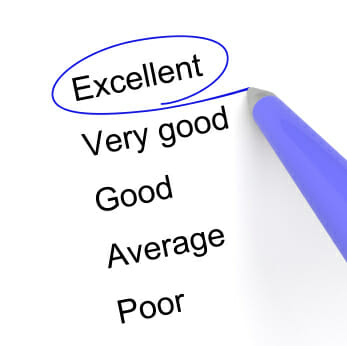 Boost Productivity and Employee Engagement by Throwing Out the Idea of the "Annual Review"
One of a manager's most important responsibilities is to evaluate employees based on a series of criteria, and to pass those evaluations on to employees on a regular basis. Many of us use the standard annual review to do this. Unfortunately, this is one of the least effective evaluation and management techniques out there.
Why is this the case?
Annual reviews answer all of the important questions an employee might have about his/her performance. They provide employee-specific support and guidance about job goals and expectations, customer/client interactions, and quality of work product. They also give the employee a new set of goals to work toward for the coming review period and an actionable plan for achieving them.
This information, coupled with the company-specific information outlined in Supporting Employees in Developing and Pursuing a Career Path, should give your employees all the information they need to understand their current strengths and weaknesses and how best to use that information to move forward in their career goals. The problem, then, isn't in the information. It's in the time frame.
Information on performance is powerful stuff. It can alter behaviors that are subpar or not working as expected. It can serve as a strong positive reinforcement system for effective behaviors and actions that are adding value to the company. It also can provide an often-needed boost in employee performance, productivity, and engagement. To be most useful, however, this information needs to be delivered on a regular, continual basis.
Once a year is regular, but it is in no way continual. For an employee to consider and integrate the information provided, evaluations and discussions about performance need to happen more frequently, at least two times a year, and preferably more often than that.
While this may sound like one more item to add to your never-ending to-do list, making time for frequent performance management evaluations does not have to be a headache. If annual review processes have been the standard in your company up until now, consider adding a mid-year review to discuss how an employee's individual performance is and is not meeting company expectations. Then, six months later, at the traditional annual review, you'll be able to focus less on what an employee did right or wrong over the year and more on what the employee really wants to talk about: benefits and compensation.
Once the semi-yearly process feels natural, begin scheduling mini-performance discussions at least once a quarter. These can, and should be, relatively low-key, low-pressure conversations between an employee and his/her direct supervisor. Ideally, the employee would be given a chance to evaluate his or her own performance, and point out any places in which he or she feels additional feedback or support from the company is required.
For additional tips on how best to utilize performance management reviews, we invite you to download the following resources:
Executive Briefing: True Colors – A Career Development Approach to Performance Management
Webinar: 5 Shades of Grading: How Inconsistencies in Performance Reviews Cause Turnover
White Paper: How to Successfully Implement Performance Management in Your Company
Collateral: Performance Management Datasheet
Demo Form: Performance Management Demo Request

Webinar | Stemming the Tide of Turnover: Helping Employees Chart Their Own Career Path
In this webinar Linda Ginac takes an in-depth look at how you can better engage and retain employees by giving them career mobility options and prioritizes internal candidates for new job positions first. Instead of employees settling for traditional, outdated career ladder opportunities, career mobility gives employees career "lattice" options. Career lattices allow individuals the […]