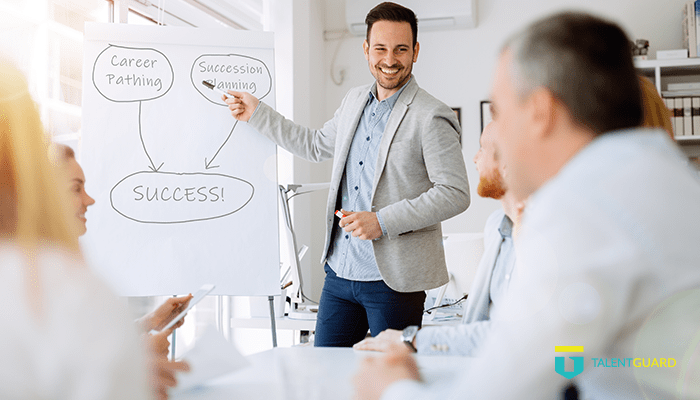 Why It's Easier to Succeed With Succession Planning When You Offer Career Pathing
Blog originally found on HR.com.
When one of your key employees is about to leave, your immediate instinct might be to find a quick replacement. After all, it's a logical first step, seeing as work can pile up and bog down other employees when certain roles aren't filled in a timely manner. But through all of the talent scouting, interviews, and other processes to help decide who will meet this vacancy, the truth of the matter is that you're still likely to come up short.
Too many HR professionals forget that a thorough succession plan in the hiring process isn't everything. In fact, it's troubling enough that some businesses don't have a secure plan at all. A recent KPMG survey revealed that a mere 14 percent of directors around the world use a mapped-out succession plan, and only 12 percent were satisfied with the one they had.
But perhaps the main reason for this disappointment isn't that succession plans are poorly executed. A succession-only approach, while an easy route, disregards the most important part of the organization: the employees suited to come in and take charge of a needed role.
The Art of Career Pathing
Succession planning is an employer-driven process — it focuses primarily on keeping the organization running. The problem with this top-down approach is that while it searches for qualified candidates, employees' personal goals and aspirations are often neglected. As a result, managers start recommending skilled prospects for jobs they have no interest in doing.
A Right Management poll found that 68 percent of employees believe their managers don't take an active role in helping them develop their careers. More often than not, managers put their organizations' needs above their employees, leaving those employees feeling like cogs in the corporate machine.
Bottom-up career pathing, on the other hand, places a greater emphasis on the employees' career goals. Paired with succession planning, this method lets managers and HR professionals tailor their employees' objectives to those of the company, not the other way around. Additionally, it's not just a charitable move for the employees. By encouraging career conversations with team members and helping them realize their potential, managers and HR professional are ensuring consistency in the organization and developing motivated, competent leaders.
3 Benefits of a Combined Succession Planning and Career Pathing Approach
Of course, none of the above is to say that succession planning is inherently wrong. The overall goal is to connect with employees through a strong strategy, and succession planning only holds up half of the importance. However, by also implementing a career pathing approach, your company can focus on filling crucial roles with candidates who actually want them.
If you're in need of more convincing, consider the following three benefits that come out of the effective pairing of succession planning and career pathing:
1. Improved Engagement
Most organizations recognize the importance of employee engagement, but many fail to go beyond basic performance reviews, assessments, and surveys to provide valuable feedback. Engagement is a two-way process — the employee needs something in return to feel like an instrumental part of the team.
Helping your employees find their career path within the organization can go a long way. A survey that covered every generation from Millennials to Baby Boomers found that 70 percent of employees point to training and development as a reason not to leave their job. Your training programs, then, should touch on more than just rudimentary responsibilities. Through the pairing of succession planning and career pathing, you can tailor to each team member's unique preferences in order to improve overall employee engagement.
2. Reduced Attritions
Investing in your employees as people is arguably the most important responsibility of any business leader or HR professional. It's how you reduce the intimidating attrition rate at your company. And this rate shouldn't be taken lightly because a recent Glassdoor study found that 73 percent of employees changing jobs are leaving their current organization, not moving up internally.
The high attrition rate is an opportunity for businesses in any industry to make a change. By approaching workers with an open mind about their futures via succession planning and career pathing, they are more likely to stay. Think of it this way: If your employees aren't receiving the direction they need, they're going to find it elsewhere.
3. A Positive Culture
Maintaining a positive work environment is the best way to keep employees at your company. Now, you can leave free food in the break room and distribute small trinkets on Fridays to those with the best sales record, but these short-term solutions aren't what get people out of bed every morning.
A positive culture values each employee's individual strengths and recognizes that his or her role is important to the organization. Don't just call employees into your office for evaluations and performance reviews. Carve out time to ask about their aspirations by utilizing career pathing methods. This proves you care about your employees' career trajectories, but it also gives you insight into how you could improve your current culture.
Placing a greater emphasis on helping your employees over helping the company is better for your business as a whole. As an HR professional, you have to do more than provide current employees with a list of job openings. Fortunately, when you put in the work and implement a blended succession-planning and career pathing process, you won't have to choose between what's best for your employees and what's best for the company.
To learn more about how to implement successful succession planning and career pathing solutions, visit TalentGuard's Succession Planning software page and Career Pathing software page. To view webinars and other content, check out our Learning Center.
Ready to get started? Request a demo today.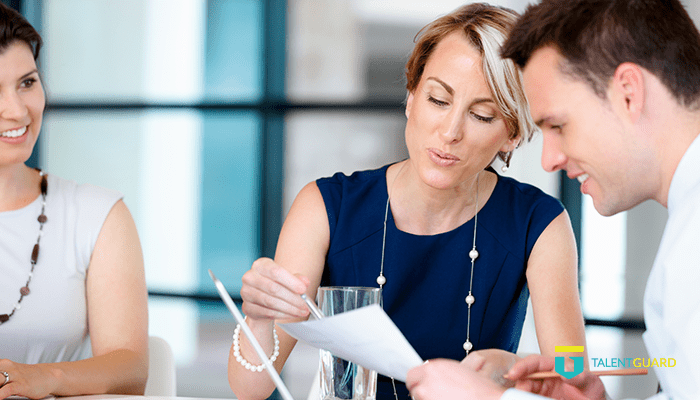 Career Pathing vs Succession Planning: Understanding The Difference
Career pathing and succession planning are common terminologies within talent management but the difference in their application and the separate benefits of each can be misunderstood and overlooked. In the majority of cases, employers prioritize succession planning, assuming that career pathing will somehow 'fit' naturally into it.
But high performing organizations require both.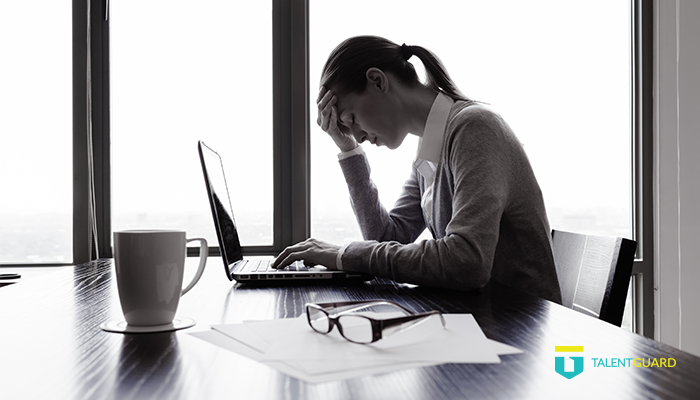 Don't Let Your Team Engagement Die with the Performance Review
When it comes to performance, candor carries the day, says Jack Welch, famed ex-CEO of GE. If you perform well on your review, you get a raise. If you perform poorly, you get yanked. This frank approach was the inspiration for GE's annual review system, often called "rank and yank" for being so systematic, and oftentimes, brutal.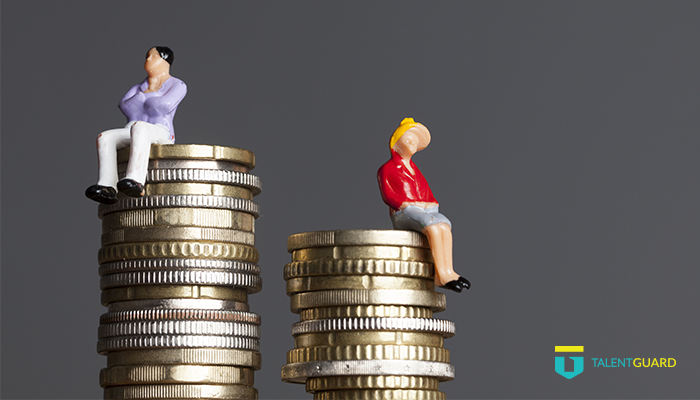 Close Gender Pay Gaps by Knowing Your Talent Skill Gaps
Assessing candidates and employees objectively based on skills not only helps companies fill positions to achieve business results, it extends fairness in the workplace that can end gender, diversity and inclusion, and pay equity gaps. Setting aside bias with a purely objective, data-driven comparison of skills helps everyone.