Career Management Software
Keep professional growth on the front burner
Give employees the learning opportunities they crave, and cultivate their skills to support your company's future. We make it easy to keep development top-of-mind, so your best talent stays engaged and your workforce can meet the demands of a rapidly changing business world.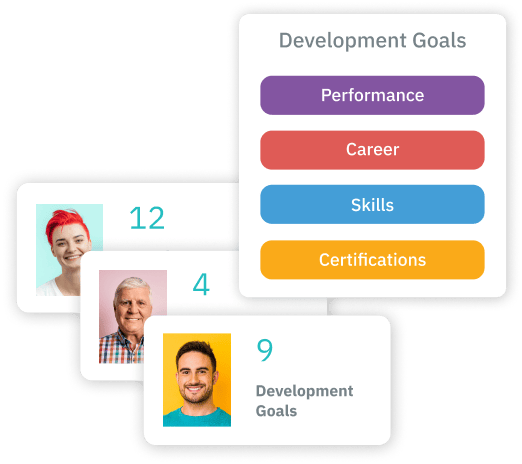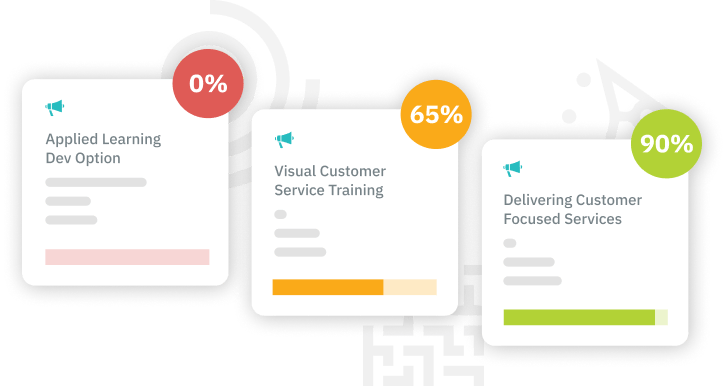 Employee-driven goal setting
Empower employees to kickstart their own development path which provides suggestions based on their current skills, preferences, and other information in their Talent Profile.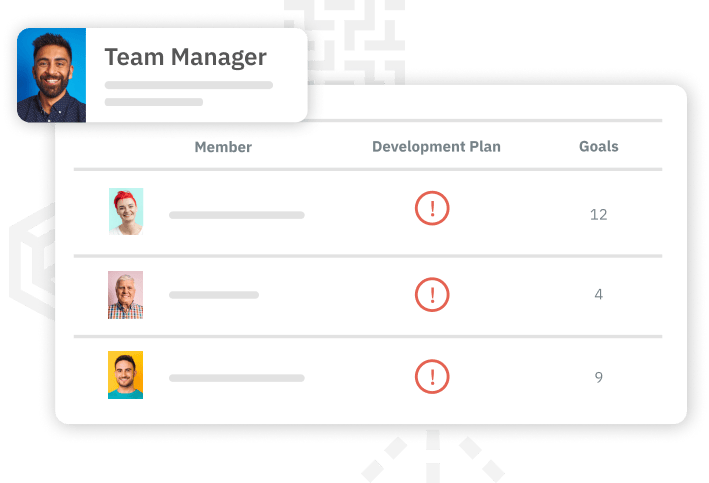 Visibility for employees and managers
Enable employees to track career development goals all year long, and help managers monitor their team's progress, provide real-time feedback and recognize achievements.
Easy progress tracking
Provide flexible tools for measuring goal attainment, including journal entries, activity tracking, 360 feedback, and assessments.
Optimize your learning opportunities
Employees get content learning suggestions based on their development goals, so they can take action quickly and make the best use of the company's training resources.
A talent strategy that grows with you. Select a bundle to book a demo!
Foundation
Automate your skills management process
Foundation includes:
Intelligent Role Studio
Job and Skill Libraries
Basic Reporting
API
Recommended
Basic
Assess current skills of your workforce & close gaps
All the Foundation features plus:
Talent Assessment
Development Planning
Reporting & Analytics
30+ languages
Core
Unlock employee skill & career development
All the Basic features plus:
Career Pathing
Certification Tracking
60+ languages
Pro
Measure the impact of upskilling on business performance
All the Core features plus:
Succession Planning
Performance Management
360 Feedback
Advanced Reporting & Analytics
90+ languages
Trusted by:


Additional information
In today's ever-changing business landscape, a cutting-edge career management system is essential for organizations that seek to effectively navigate employee growth and engagement. With the perfect combination of career management software, talent development software, and an unwavering commitment to fostering career growth and development, organizations can create a streamlined process that encourages employees to reach their full potential.
As an integral component of this comprehensive system, TalentGuard's innovative talent development software plays a critical role in providing employees with the necessary tools and resources to not only achieve their personal goals but also contribute positively to the organization's overall success.
Moreover, our powerful career management software helps HR teams effortlessly monitor employee progress and identify areas for improvement or advancement while offering unparalleled opportunities for skill enhancement.
By leveraging these advanced technologies in harmony with progressive strategies for career growth and development, our state-of-the-art career management system ensures that your company remains at the forefront of attracting and retaining top-tier talent.
As the global marketplace continues to evolve and become more competitive, it's never been more crucial for businesses to invest in a robust suite of solutions designed specifically for effective employee management — that's where our exceptional career management system comes into play with its proven results in driving employee satisfaction and performance.
Don't miss out on harnessing the true power of our comprehensive platform tailored to maximize your team's potential! Get in touch with one of our expert talent managers today to find out more about how TalentGuard's state-of-the-art technology can benefit your organization and your employees alike.
Career Development Platform
Welcome to our innovative career development platform, designed to empower individuals seeking growth and fulfillment in their professional lives. By utilizing our state-of-the-art career development tools, you can unlock the full potential of your skills and expertise, setting yourself on the fast track towards success. As an all-inclusive solution, our platform caters to every need that may arise during your pursuit of professional excellence — from identifying your strengths and areas of improvement to mapping out a comprehensive career path planning strategy tailored just for you.
One of the most crucial aspects of advancing in your chosen field is understanding the answers to questions like:
"What are career development tools?"
or
"How can career development tools contribute to my progress?"
Our platform offers a diverse array of resources that work synergistically to fortify your professional profile while broadening your horizons by exposing you to valuable insights from industry experts.
But perhaps the most rewarding feature of our career development platform is its ability to facilitate effective career path planning. This indispensable process delves deep into your aspirations, preferences, and capabilities in order to chart a course that will lead you towards a fulfilling, long-lasting profession. With robust support from our platform's cutting-edge technology and unwavering commitment towards excellence, you can rest assured that each step you take will bring you closer to realizing your career dreams.
Embark on this transformative journey with us today — because there's no better time than now for self-discovery.
Importance of Career Development
It is difficult to overstate the importance of career development in today's hyper-competitive job market. Individuals who focus on honing their skills and expanding their knowledge base are far more likely to succeed by being better prepared for opportunities that come their way. One of the key aspects that make career management methods essential is the fact that they provide a structured approach to personal and professional growth, allowing you to identify your strengths and weaknesses and work towards goals with tangible results.
For instance, by following a career path example or creating a unique path tailored to your aspirations, you can gain valuable insights into the most effective steps to take in order to achieve success in your chosen field. Moreover, engaging in continuous learning through workshops, online courses, and networking events can help you stay updated with industry trends and establish important connections that can potentially lead to new prospects.
In short, dedicating time and effort to career development not only enhances your employability but also empowers you with the confidence and motivation required to propel yourself further along the road of professional accomplishment. By embracing regular self-assessment techniques, setting realistic objectives based on a trusted career path example, and employing practical career management methods, you can ultimately transform both your personal ambitions and professional trajectory into reality.
Stages of Career Development
Learn to navigate the various stages of career development with our comprehensive guide designed to propel your professional success. This essential roadmap outlines the 5 steps of career planning, equipping you with valuable tools and insights to effectively strategize for a thriving and fulfilling career journey. To kickstart your growth, we have curated a collection of career planning examples to serve as inspiration and to help you visualize your goals in diverse professional contexts.
Identify your strengths and weaknesses
Explore potential opportunities
Set realistic objectives
Implement an action plan
Continually review and adjust your direction
By understanding the nuances of each of the stages of career development process, you can make informed decisions that align with your personal values and aspirations. No matter which stage you are currently struggling with — our expert tips will support you every step of the way.
Embark on this transformative journey towards professional fulfillment by mastering the art of strategic career planning with the help of our engaging content. Our resources are designed for dynamic individuals like yourself who seek continuous growth and lasting impact within their chosen industries.
Succession Planning Software
In today's fast-paced business environment, companies must prioritize their employee development strategies to ensure the future growth and success of their organizations. One critical aspect of this reprioritization is the implementation of a robust succession planning software that enables businesses to identify and nurture talent from within.
A well-designed succession planning software not only helps organizations streamline their career planning frameworks but also fosters an environment where employees can thrive in their careers. By utilizing cutting-edge algorithms and intuitive interfaces, employee development platforms for succession planning empower employers to make informed decisions about potential successors who demonstrate promising leadership qualities.
Additionally, succession planning software can enable HR professionals to create customized career plans tailored to individual employees' skills and aspirations, thereby promoting job satisfaction and reducing turnover rates.
Succession planning software can help organizations stay ahead of industry trends by helping them to closely monitor skill gaps across various departments and proactively develop targeted training programs that address these needs. Investing in a comprehensive employee development platform with robust succession planning capabilities is essential for businesses looking to maintain a competitive edge while fostering a culture of continuous growth for all team members.
Career Mapping Tool
Discover the ultimate career mapping tool designed to help you navigate your journey towards professional success. TalentGuard's state-of-the-art career pathing software is meticulously crafted to assist individuals in identifying their unique skills and passions, while simultaneously providing invaluable insights into potential growth opportunities within their chosen fields. By utilizing advanced algorithms, data-driven analysis, and personalized recommendations, our platform empowers users to chart a course for long-term achievement and satisfaction.
As an all-inclusive solution, our innovative career planning tools offer unparalleled access to comprehensive resources. Whether you are just starting your professional journey or seeking advancement within your current role, let TalentGuard guide you on the path towards realizing your aspirations with our cutting-edge career mapping tool.
Developed by industry-leading experts in human resource management and organizational development, our technology will not only revolutionize the way you approach your career trajectory but also instill a renewed sense of clarity and determination as you pursue your ambitions.
Don't leave your future success up to chance — harness the full power of our sophisticated career pathing software today!
Competency Management Software
TalentGuard's cutting-edge competency management software introduces unparalleled benefits designed to revolutionize your organization's technical career path framework. Our innovative platform empowers businesses by providing an efficient and comprehensive solution to track, manage, and develop employee competencies across all departments.
By harnessing the power of a robust technical career path framework, our competency management software enables you to identify skill gaps, evaluate employee performance, and create customized training programs tailored to individual needs and goals. This ensures that your workforce remains equipped with the skills necessary for success in today's rapidly evolving technology landscape.
Furthermore, our competency management software integrates seamlessly into your existing HR systems, streamlining data access and simplifying reporting processes for maximum efficiency. With its intuitive user interface and easily customizable features, this powerful tool is a breeze to implement. You can experience firsthand how our exceptional competency management software can elevate your organization's performance by fostering a culture of continuous learning and development — ultimately resulting in a more engaged and agile workforce ready to tackle any challenge that comes their way.
Transform your business into an industry leader with the help of our state-of-the-art competency management software and its unrivaled technical career path framework capabilities. No matter what size your business is, our platform can help you achieve growth and unlock your employees' full potential.