Employee Development Planning Software
Keep professional growth on the front burner
Give employees the learning opportunities they crave, and cultivate their skills to support your company's future. We make it easy to keep development top-of-mind, so your best talent stays engaged and your workforce can meet the demands of a rapidly changing business world.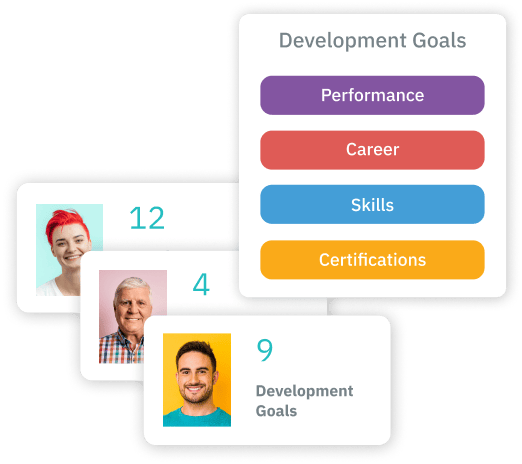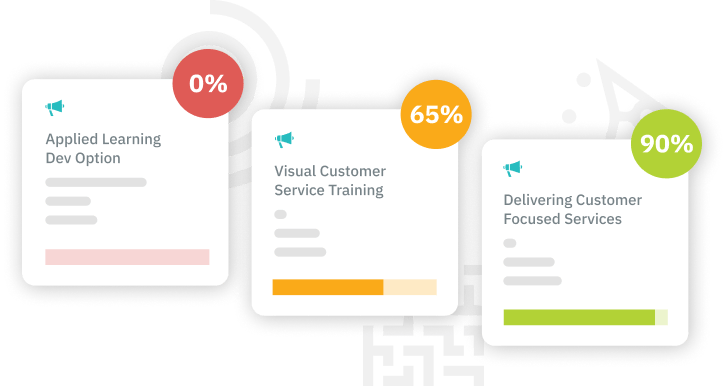 Employee-driven goal setting
Empower employees to kickstart their own development path which provides suggestions based on their current skills, preferences, and other information in their Talent Profile.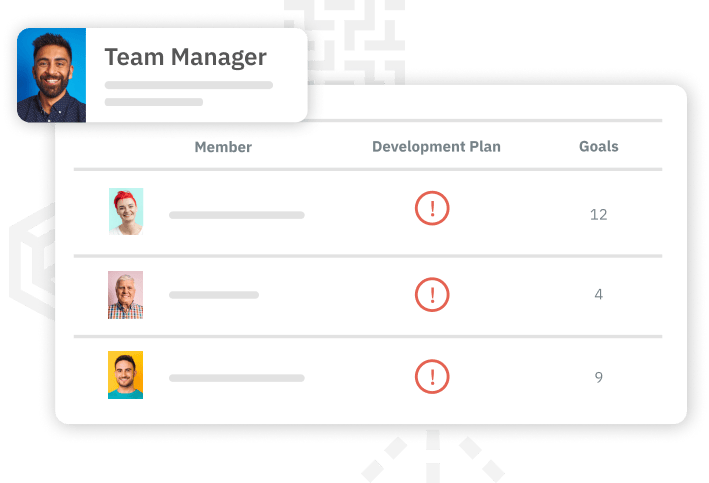 Visibility for employees and managers
Enable employees to track career development goals all year long, and help managers monitor their team's progress, provide real-time feedback and recognize achievements.
Easy progress tracking
Provide flexible tools for measuring goal attainment, including journal entries, activity tracking, 360 feedback, and assessments.
Optimize your learning opportunities
Employees get content learning suggestions based on their development goals, so they can take action quickly and make the best use of the company's training resources.
A talent strategy that grows with you. Select a bundle to book a demo!
Foundation
Automate your skills management process
Foundation includes:
Intelligent Role Studio
Job and Skill Libraries
Basic Reporting
API
Recommended
Basic
Assess current skills of your workforce & close gaps
All the Foundation features plus:
Talent Assessment
Development Planning
Reporting & Analytics
30+ languages
Core
Unlock employee skill & career development
All the Basic features plus:
Career Pathing
Certification Tracking
60+ languages
Pro
Measure the impact of upskilling on business performance
All the Core features plus:
Succession Planning
Performance Management
360 Feedback
Advanced Reporting & Analytics
90+ languages
Trusted by:


Additional information
The Great Resignation of 2021 not only surprised employers across the nation, but it caused revelations for employees, too. Spurred on by the opportunity to spend more time at home with family, workers simply decided that the jobs they had were not the jobs they ultimately wanted. There were several reasons for this mass dissatisfaction, and an important one was the lack of prospect for career growth.
In other words, many of those who walked away felt they were stuck in meaningless or dead-end jobs. And while no company wants to own this moniker, many human resource departments don't understand the steps required to avoid it.
Your organization can sidestep this pitfall by providing opportunities for employee development planning. Why is employee development important? Because it allows employees to set smart goals for career development. Examples include:
Mastering new technology or software
Polishing leadership skills
Gaining valuable work certifications or college credits
Becoming more promotable
Increasing individual job satisfaction
Previously, the responsibility to become a more marketable employee fell squarely on the worker. But in today's world, more and more employees are demanding their companies step up and help shoulder the burden. This is where a clearly defined employee development plan, goals, examples, and measured outcomes become vital. Having a plan such as this in place, and training your employees how to take best advantage of it, will help lower turnover rates, improve employee morale, and boost your company's rank as a corporation that cares about worker satisfaction.
If your goal is to become a company where experienced and quality employees want to remain, adopting a strong employee development plan that features personalized learning and business goals is an ideal place to begin.
Personal and Professional Goals
For most employees, work goals fall into two categories: personal and professional goals. These are different for every worker, and not everyone places equal emphasis upon them. For many, the focus is on personal objectives. Examples of which might include having more time to spend at home with family, the opportunity to contribute to an employee-sponsored savings plan, or more flexibility regarding paid time off. If you've ever lamented the time it takes to drive to work every morning or become frustrated with the amount of traffic during the evening drive home, you're familiar with personal work objectives. These are features that would make you feel happier and more content with your job, even when you're away from your desk.
Conversely, other employees place higher value on professional goals, examples of which may include good opportunity for internal advancement or tuition assistance to earn college credits toward a degree. These work goals examples are indicative of what many of today's applicants are thinking when they apply. They also factor in to how long an employee remains at a job. In other words, to attract and retain the nation's best and brightest employees, it's up to a corporation to provide enticing incentives that employees both want and need.
Employee Development Program
The best employee development program is one that combines employee training and employee development. This creates a comprehensive talent profile for each individual. By blending what a position requires with what an employee prefers, it becomes easier to detect which employee is better suited to take on specific roles within the company. For instance, you may wish your receptionist would accept the role of office manager because you find them to be responsible, dedicated, and highly knowledgeable. However, they may not enjoy the extended hours or the switch from hourly to salaried pay. Having this information available up front can save you both the time and frustration caused by placing a good employee in a role for which they don't aspire to. Strong training and development programs for employees will help you avoid potential problems like these.
What could stand in the way of devising these types of employee development programs? Examples could be lack of training for HR personnel on how to run the software or lack of interest among employees who haven't been properly briefed on its benefits. Training should be versatile to fit every individual's schedule and preferences. Some may prefer to learn in-person, while others opt for online webinars or video conferences.
Career Development Plan for Employees
Communication matters, and this is never more important than it is at work. When employees are able to see well-defined qualifications and job requirements, they may be better able to identify the skills they wish to work on. With a clear career path at hand, they may decide to sit down and culminate a list titled something like "My Career Development Plan Examples," adding items such as:
Become a more confident public speaker
Take a class in filing or transcription
Become certified in office software
Your career development plan for employees should include posting internal positions where everyone can learn about them. It should spell out the job requirements in terms that are clearly defined and easy to understand. Ideally, this will result in higher rates of employee satisfaction, and it will also benefit both employees and managers by improving communication during job performance reviews. Career development goals examples for performance review might include opportunities for improvement, such as punctuality or proper work attire. And they might cover employee strength, as well. Using this information, workers can devise clear development goals for work that will help them prepare for advancement along their preferred career paths, and managers can document the employee's improved trajectory.
What Is Performance Development?
What is performance development? In a nutshell, it's a cooperative effort on the part of the employer and the employee to improve the worker's job skills, personal satisfaction, and motivation. When done well, everyone benefits. Your company benefits by retaining an employee who cares about their job and by saving money on hiring and training fewer new recruits. Employees benefit by obtaining new job skills that make them more marketable. Additionally, they experience higher rates of job satisfaction, and a more-defined idea of the direction they wish to move within the company.
The performance development process can be made smoother when your company partners with a full-service software provider who offers additional support. In this way, personal development goals for managers can be aligned to fit with the customized goals of the employees they oversee, everyone learns how to utilize the program to their best advantage, and everyone gains an understanding of the development plan. For employee appraisal, the plan assists managers to cover the most important talking points and gives employees a clearer vision of what's expected of them.