360 Degree Feedback Software
360 reviews, tailored for your org
Peers, customers, vendors, partners—they can all provide valuable insight about an employee's performance on the job. We give you the tools to make their voices heard, so employees get a clear picture of how others view them, and reviewers know their perspectives matter.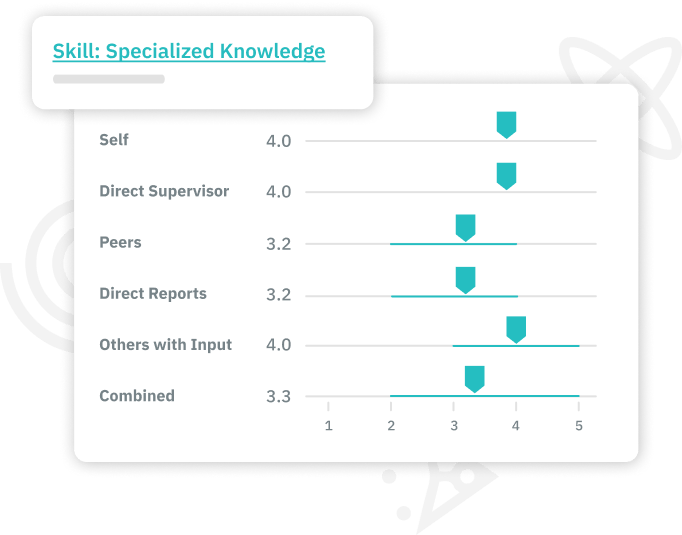 Simple, customizable review process
Easily solicit feedback from many stakeholders and peers. Our centralized system makes it simple to invite the right respondents at the right time, ask relevant questions, define custom rating scales, and collect their responses in a way that protects their identity.
Powerful coaching input
Getting feedback from multiple people helps employees increase their self-awareness, understand their strengths, and identify areas for improvement. Plus, it gives managers rich information they can use to coach employees to higher levels of performance.
Comparisons and benchmarks
Use the data from 360 Degree Feedback assessments to compare employees in similar roles or across business units, establish performance benchmarks, and evaluate leadership potential.
A talent strategy that grows with you. Select a bundle to book a demo!
Foundation
Automate your skills management process
Foundation includes:
Intelligent Role Studio
Job and Skill Libraries
WorkforceGPT
Basic Reporting
API
Basic
Assess current skills of your workforce & close gaps
All the Foundation features plus:
Talent Assessment
Development Planning
Reporting & Analytics
30+ languages
Core
Unlock employee skill & career development
All the Basic features plus:
Career Pathing
Certification Tracking
60+ languages
Recommended
Pro
Measure the impact of upskilling on business performance
All the Core features plus:
Succession Planning
Performance Management
360 Feedback
Advanced Reporting & Analytics
90+ languages
Trusted by:


Additional information
TalentGuard's 360 Degree Feedback software helps employers gain valuable insight into an employee's potential and performance. Our tool:
Helps employees increase self-awareness, better understand strengths, uncover blind spots, and improve skills.
Guides managers in providing important feedback to employees and coaching them to higher levels of performance.
Accurately gathers multi-rater feedback, measures leadership potentials, and benchmarks participants on a variety of dimensions.