Certification Tracking Software
Nip compliance risks in the bud
Ensure that your company is living up to its legal requirements, ethical standards, and shared values before problems arise.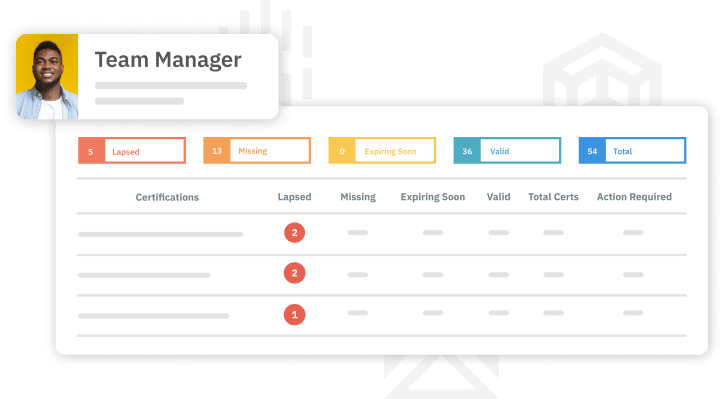 Easy management with custom reports
No more juggling multiple documents or outdated spreadsheets. You can easily generate reports customized for your company's certification, training, licensing, and professional development needs, and share them with everyone who needs to be in the loop.
Rapid verification of credentials
Quickly verify whether an individual or project team has all the credentials required for their work and provide evidence of certification to vendors and suppliers.
Automated renewal reminders
Never let another expiration date go by unnoticed. Automatically send alerts to employees and their managers when certifications are about to expire, so they can stay on track and ensure that every project is staffed with properly qualified personnel.
A talent strategy that grows with you. Select a bundle to book a demo!
Foundation
Automate your skills management process
Foundation includes:
Intelligent Role Studio
Job and Skill Libraries
WorkforceGPT
Basic Reporting
API
Basic
Assess current skills of your workforce & close gaps
All the Foundation features plus:
Talent Assessment
Development Planning
Reporting & Analytics
30+ languages
Recommended
Core
Unlock employee skill & career development
All the Basic features plus:
Career Pathing
Certification Tracking
60+ languages
Pro
Measure the impact of upskilling on business performance
All the Core features plus:
Succession Planning
Performance Management
360 Feedback
Advanced Reporting & Analytics
90+ languages
Trusted by:


Additional information
TalentGuard's Certification Tracking software offers a reliable solution that enables companies to assess their risk exposure and certification obligations. Use our tool to:
Manage, track and report on employee training, licenses and professional development required by employees in their jobs.
Facilitate compliance with regulations and contractual obligations required by core business activities.
Quickly and accurately provide and verify evidence of certification to vendors and suppliers
Communicate status of certifications to all interested parties including employees, managers, legal and human resources.