January Webinar: Encouraging Year-round Adoption and Engagement of the Performance Management Process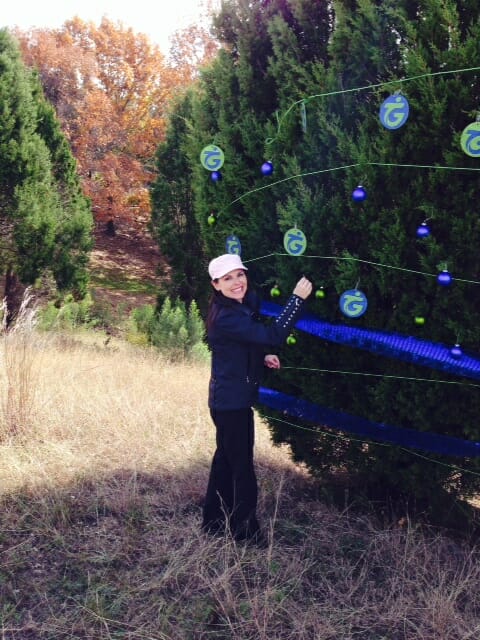 What's Your Company Tradition?
It may be taboo, but done correctly, holiday traditions in the workplace can build positive morale resulting in increased employee motivation. Some may say holiday traditions are for families, but considering many of us spend 40+ hours a week with our co-workers, treating one another like family might not be a bad idea. High morale and motivation enhance team building and productivity. So go ahead, celebrate a little, but put a little thought into it beforehand.
Here at TalentGuard, we spent part of the day participating in an Austin tradition, decorating a tree along the highway by our corporate office. The tradition started more than 20 years ago with a few decorated junipers along Capital of Texas Highway. Each year the tradition grows and more mysterious "elves" participate. Families, organizations and businesses all try to out-do one another with crazy themes and tacky, weather-proofed decorations. This year, TalentGuard joined in with our inaugural TalentGuard tree.  We gathered our decorations, braved the cold and trekked out to a previously scouted tree. Working together, we played on everyone's strength to create our masterpiece (someone has to put the star on top, that's when it's nice to have a 6′5″ CIO). It was a simple team-building activity, but it's amazing how celebrating the season really put a smile on everyone's face. When returning to the office, the usual day-to-day activities seemed to go a little smoother and teamwork was just a little more noticeable.
Your team may do a gift exchange, potluck, community service project or a party. And it may be difficult to start corporate-wide traditions (not everyone can do it WestJet-style), so put traditions in place for your team, department or location.  No matter what traditions your company embraces, be sensitive to individual preferences and beliefs.
Here are a few tips for successful organization of events, mistakes to avoid and ideas for traditions you can start and share.
Have a planning committee: Having representation and multiple perspectives ensures sensitivity to any issues, and sparks creativity.
Honor diversity: Be aware of the diverse backgrounds and beliefs within your organization. Plan activities and traditions that honor the spirit of the season, not a singular view. And remember lifestyle choices—if you have a number of vegetarians, be sure to offer variety and options.
Be true to your corporate culture: If you have a company initiative around fitness, maybe a 5K works for your organization. If you have a focus on giving back to your community, maybe adopting a family is just the tradition for you.
Involve everyone: While a planning committee may take the lead, many hands make less work for everyone. Plus, the more involved employees feel, the more rewarding the activity.
Think about family: While you may spend more waking hours with your co-workers than family, including family may give a new perspective for spouses, significant others or children.
With the end of the year approaching, get together and celebrate a successful year!
We love to hear from you! Let us know your corporate traditions.  #whatsyourcompanytradition?
HR Technology Conference – Come visit us – booth 1548
The TalentGuard team is excited about exhibiting for the first time at #hrtechconf in Las Vegas.  We are the new kid on the block at the conference, but we are not new to the space. We've been working diligently in the background making new partners, empowering HR people with innovative approaches to transform people development, […]

TalentGuard CTO joins Texas' Premier Technology Group
TalentGuard is excited to announce that our very own Chief Technology Officer, Frank Ginac, has been appointed to the advisory council of Texas' Premier Technology Group, Austin-based door64. door64 is a social community of over 30,000 highly-skilled experts in the software, hardware and business fields and has been recognized as the city's largest networking group […]
It was "No Easy Day"
A friend recommended the Navy Seal book on the firsthand account of killing Osama Bin Laden. In reading the book from a human capital perspective, it highlighted the Navy's: Selection Process – a rigorous program to find candidates who had what it took (aligned knowledge, skill and aptitude with the job requirements); Learning & Development – a […]