Best Career Management Tool
Empower employees to forge their own futures
Support your talents' aspirations and career management goals by providing them with organizational visibility by utilizing career pathing software.
Visibility that sparks initiative
Employees can actively explore their possibilities within the company and build career paths tailored to their competencies and goals, whether they're aiming for the top or happy where they are.
Agile matching of people and roles
Our competency-based search functions allow employees to search for roles that fit their skills and dreams. This increases internal mobility from the bottom up, helping your company retain its valuable talent.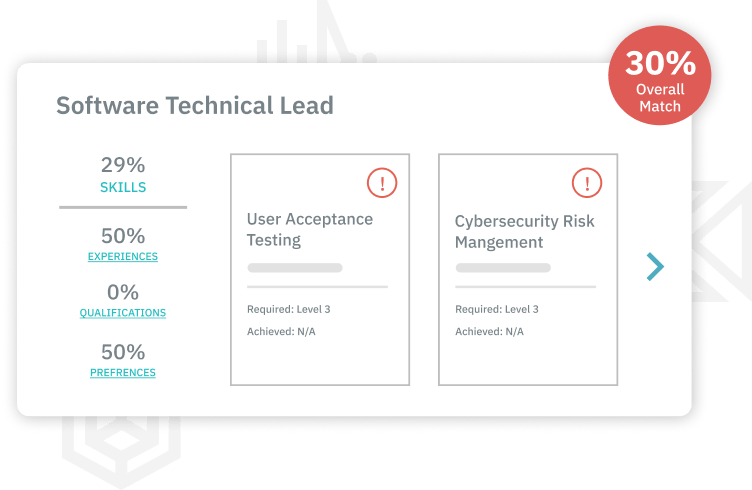 Growth with purpose
When employees set their sights on a career path, they get a custom development plan based on their current competencies, so they can acquire the skills their desired roles demand.
A talent strategy that grows with you. Select a bundle to book a demo!
Foundation
Automate your skills management process
Foundation includes:
Intelligent Role Studio
Job and Skill Libraries
Basic Reporting
API
Basic
Assess current skills of your workforce & close gaps
All the Foundation features plus:
Talent Assessment
Development Planning
Reporting & Analytics
30+ languages
Recommended
Core
Unlock employee skill & career development
All the Basic features plus:
Career Pathing
Certification Tracking
60+ languages
Pro
Measure the impact of upskilling on business performance
All the Core features plus:
Succession Planning
Performance Management
360 Feedback
Advanced Reporting & Analytics
90+ languages
Trusted by:


Additional information
Career management can mean different things. Although there is career management from a personal standpoint, on the business side, it's all about ensuring employees are empowered to develop their skills to further their careers with the organization.
What is career management?
In most cases, it's an entire process that plans the progress of an employee's professional goals through a series of methods where the employee is actively learning and growing. The career management model has several people involved, including the employee, their manager, HR, and the organization as a whole. The key component in effective career management is buy-in, support, and commitment from top management. Additionally, the process must be accessible and available to all employees.
A career management model's steps differ based on the organization. It usually has five steps, including assessment, research, goal setting, action, and regrouping. Career management is important to organizations because it enhances an employee's skill set and performance while elevating them to advanced roles from within. Although an employee may choose to use their new skill sets elsewhere, if they are put on a path for professional development and promotion from the beginning, the chances of them going to another company are lessened.
Benefits of good career management include improving skills; discovering new interests; setting and reaching goals; acknowledgment of personal potential; gaining confidence in current and future roles; gaining more perspective on the role and job market; and maintaining a healthy balance between work and home.
Some career management examples may include coursework that ends with credentials, certificate programs in a specific career or interest, professional reading, conferences and workshops, and adding the employee to certain projects or committees. Fostering a climate where this is the standard creates stronger workforces, employees who will, and want to go the extra mile, and increases morale.
Career Management in HRM
Human resources plays a huge part in the success of an effective career management program. Career management in HRM is continuous. The process embraces different concepts to make sure employees and the company are on the same page when it comes to their success. The importance of career management in HRM is vital to both parties.
There are different types of career management that are crafted based on the principles of career management but are tailored to the company's goals and objectives for the career development of their employees. These career management activities align with the overall career management definition to ensure employees are given every opportunity to succeed.
Career development workshop activities are usually designed around the employee and their particular needs. In most cases, some of these activities are streamlined into sections to make sure everyone is on the same page. For instance, an employee development activities example could be designing a continuing education program within the company or sending employees to programs in their career management plan. These approaches to professional development vary based on the overall assessment the employee takes at the beginning of the career management journey. In all these activities, human resources must be an integral part every step of the way.
Career Management Process
Although career management can be a personal choice, more and more HRM departments are prioritizing the career management process to ensure their career management system is assisting with employee development and retention.
The career management process in HRM must concentrate on the four elements of career management, which are:
Education
This includes formal and informal training like classes, certifications, and degrees, as well as expansive reading, ongoing classes, and reading articles, blogs, and books.
Capability
Everyone on the job has some capability to complete their roles. These capabilities are raw skills that include being able to put together great strategies, project management, data, working knowledge, software management, and more.
Network
These are the people employees work with and learn from, and those people within the career path that offer guidance and help when needed.
Experience
Having a strong track record in acquiring positions that align with the career path and theme is key. This helps in career development as the employee and HR work together to ensure the employee's roles encompass the areas they need to thrive and grow.
This helps in implementing a robust career management model or theory that works within the types of career management the company chooses for its program.
Career Management Skills
Skills are extremely important to get employees where you want them to go in their careers. Career management skills can connect employees to specific career paths they can actively work toward. These skills also demonstrate what they know, creating a career management skills framework they can follow to get what they need to learn and be successful in the future.
Some career management skills examples include:
Self
These are the skills that help in understanding an employee's personality, values, and interests that will assist in making the right career decisions.
Strengths
This is the employee, and the company's chance to learn the talents, qualifications, and skills of the employee to ensure they are on the right career path. This gives HR and management leverage in recognizing the strengths of the employee to ensure they learn all they can, and are placed in roles where they will be most effective.
Strategy
Being strategic about how your employees work, train, and learn is important. The organization must be strategic in exploring different avenues to meet employees how they learn best.
Networks
This is the organization's opportunity to identify who can assist the employee in their career development in and outside the company.
Career Management in Organizations
The importance of career management in an organization cannot be overlooked. Taking a proactive approach to career management in organizations helps them invest correctly to reap the benefits of retention and consistently engaged employees. This also helps companies plan for succession as their leaders move up in roles or leave the company.
Career management roles are just one piece of the puzzle. They must understand all types of career management to provide the best path for self-career management.
What is organizational career?
The organizational career definition involves the activities a company designs to ensure employees decide on as they assess and create a viable career management plan. Companies should encourage their employees to take an active role in their career management and implement informational programs and HRM functions that keep them on track from the beginning of their career journey. From learning and application and skill application to internal job openings or lateral movement, each space should be one where the employee organically grows.