Career Mapping Software
Empower employees to forge their own futures
Support your talents' aspirations and career management goals by providing them with organizational visibility by utilizing career mapping software.
Visibility that sparks initiative
Employees can actively explore their possibilities within the company and build career paths tailored to their competencies and goals, whether they're aiming for the top or happy where they are.
Agile matching of people and roles
Our competency-based search functions allow employees to search for roles that fit their skills and dreams. This increases internal mobility from the bottom up, helping your company retain its valuable talent.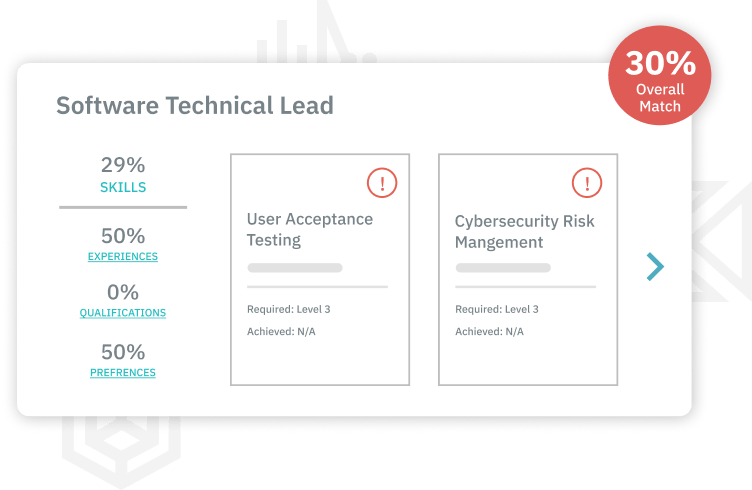 Growth with purpose
When employees set their sights on a career path, they get a custom development plan based on their current competencies, so they can acquire the skills their desired roles demand.
A talent strategy that grows with you. Select a bundle to book a demo!
Foundation
Automate your skills management process
Foundation includes:
Intelligent Role Studio
Job and Skill Libraries
Basic Reporting
API
Basic
Assess current skills of your workforce & close gaps
All the Foundation features plus:
Talent Assessment
Development Planning
Reporting & Analytics
30+ languages
Recommended
Core
Unlock employee skill & career development
All the Basic features plus:
Career Pathing
Certification Tracking
60+ languages
Pro
Measure the impact of upskilling on business performance
All the Core features plus:
Succession Planning
Performance Management
360 Feedback
Advanced Reporting & Analytics
90+ languages
Trusted by:


Additional information
What is career mapping software? It's software that helps companies plot out individual career paths. This allows employees to better understand and attain the requirements for career advancement. However, it also helps the company visualize where opportunities for improvement exist. For example, if the requirements to advance to marketing manager include selling a set number of dollars of advertising to local markets, but the local market has already been tapped and saturated, the company has several options:
Expand the marketing requirements to include businesses outside the local area.
Adjust the dollar amount of local sales required.
In this way, goals remain reachable, employees stay motivated, and the company can see, at a glance, where shortcomings exist. Without career mapping, it can be very easy to lose track of where employees are in their current career paths. Job listings may also become muddled because nobody knows exactly which skills are required for which jobs. Traditionally, tasks such as these have been the responsibility of human resource departments. But if your company is operating short-handed or your HR department is being staffed by new employees who lack job experience, career mapping software can be invaluable in more ways than one.
Career Framework
Perhaps an even better way of looking at career mapping is to consider it more of a career framework. Like scaffolding is designed to help a worker on the ground reach high places, a career framework is designed to help employees reach desired work goals.
In construction, frameworks are in place to provide strength and support. They're the bones that hold up houses and buildings. Once the framework has been built, it's easy to see where the floors, walls, and roofing should go. But can you imagine trying to construct a house or a barn without first building the framework? How would walls connect to walls, and where would rafters and trusses go? Most likely, reaching completion would be impossible. And instead of an attractive, well-built home, you might be left with a crooked structure that lacks cohesion and support.
Developing a career path framework is just as important for your employees. It's a means of support that allows workers to advance, step-by-step, into the roles they desire. Without it, they may wander off track, become lost, and end up stuck too long in a job for which they feel overqualified. When this happens, workers tend to move on. This translates into higher turnover rates and more money spent on training new employees. It's also a sure way to lose talented people who could have become happy, satisfied employees for life. Fortunately, this can all be avoided by showing employees how to develop a career path that works best for them, taking into account their individual talents, education, and goals.
Career Pathing Software
Career path software is beneficial for your workforce because it provides clear, concise career development tools for employees. However, it may be even more advantageous to the companies who utilize it. Think of it this way: Your company needs only one CEO, but how many analysts, program directors, and department supervisors does it need? You may already employ people who have the background and experience to excel in these roles. But if you're not tracking the data, how will you know? This is the primary role of a good career pathing software. It provides interactive career path tools that employees and HR can use to input and analyze important data.
Do you have an employee who just finished earning their master's degree in business administration through evening or online classes? They might be reluctant to knock on your door and give you the good news. However, if there's software in place that allows them to add this milestone to their HR file, the right information reaches the right people. And if this same software is tracking shortages of personnel who have this asset — guess who may be next in line for promotion? You may have been considering hiring outside the company to fill this role because a skills gap existed. Now, there's no reason to do so. You can promote your loyal employee, who already has a working knowledge of how your company operates. As a result, you save the time and money associated with training a new hire, and your employee stays satisfied and happy. Better still, he tells all his talented and educated friends about the amazing company for which he works.
Career Development Software
Overall, the right career management software does the heavy lifting for both your HR department and your individual workers. It lets you input data such as job requirements, preferred skills, and the education and experience needed for each position. At the same time, it allows employees to input their individual accomplishments and gives them a bird's-eye-view of what they must do next to secure the next rung on the corporate ladder, even if that means a lateral or backward move to achieve the work/life balance they most desire.
Career development software is intuitive and user-friendly, too. It's an ideal tool for companies to use for reskilling or upskilling employees and for lessening skills gaps across various industries. It's applicable to nearly every company, and it pays for itself in convenience and automation. No more must your HR personnel be tasked with monotonously tracking the data of individual employees to ensure they've completed upskill modules within the given timeframe. Now, this falls to automation. Better, it offers valuable incentives to workers for completing these tasks on time. And it's designed in such a way that individuals actually want to engage because doing so moves them one step further along the path to where they ultimately want to be.
If your company is not yet using an easy, intuituve change management software, what's holding you back? A good career management system in HRM can revolutionize your HR department overnight. It can automate repetitive tasks, collect and analyze important data, and give you a much clearer picture of what's going on with your workforce. At the same time, it can boost employee morale, lower turnover rates, and decrease training costs. Learn more about the many benefits of investing in the right talent management software today.