Internal Talent Marketplace Software
See the future by planning for it
Predict the company's future talent needs and choose the best candidates for the most important roles, based on a complete view of your company's collective talent!
Talent pool builder
Proactively manage succession risks and role vacancies with internal talent pools. Evaluate how well candidates match the role profile and alert management to flight risks.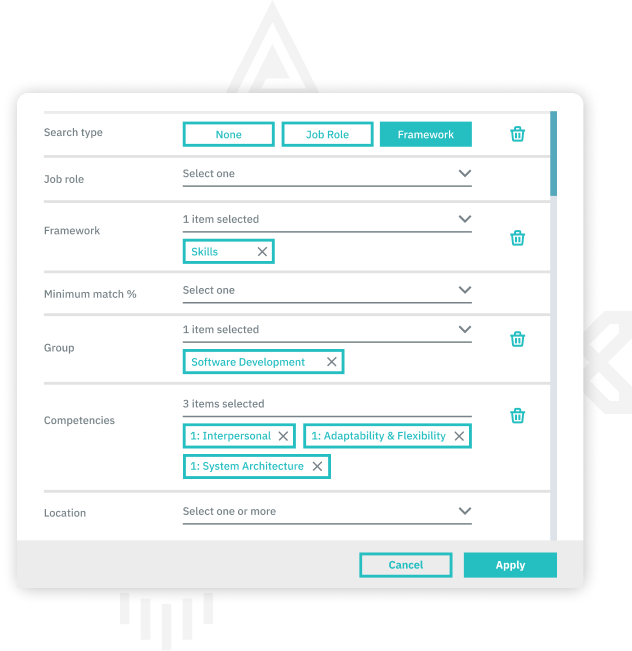 Targeted internal talent search
Recruit internally based on multiple criteria, including verified skills, competencies, performance, career aspirations, manager recommendations, and more.
Objective candidate evaluation
Reduce bias in your internal mobility decisions with objective, verified skill data. Compare candidates side-by-side based on match percentage, time-to-readiness, previous roles, preferences, and more.
A clear view of future needs
Enable managers to see their teams' bench strengths, tenure risks, and gaps in role succession so they can develop their people with an eye to the future.
Ideal candidate finder
Wish you could find someone just like your top performer? Use this flexible tool to define the skills, experiences, and other characteristics of your ideal candidate and find internal talent that matches.
A talent strategy that grows with you. Select a bundle to book a demo!
Foundation
Automate your skills management process
Foundation includes:
Intelligent Role Studio
Job and Skill Libraries
WorkforceGPT
Basic Reporting
API
Basic
Assess current skills of your workforce & close gaps
All the Foundation features plus:
Talent Assessment
Development Planning
Reporting & Analytics
30+ languages
Recommended
Core
Unlock employee skill & career development
All the Basic features plus:
Career Pathing
Certification Tracking
60+ languages
Pro
Measure the impact of upskilling on business performance
All the Core features plus:
Succession Planning
Performance Management
360 Feedback
Advanced Reporting & Analytics
90+ languages
Trusted by:


Additional information
The most important resource for any company is its employees. A successful business is one where employees are nurtured to reach their full potential and productivity. This means you need to attract and retain the right employees, as well as develop their talents for business success.
One of the most important ways to do this is by identifying their skills. When you understand the capabilities of each employee, you can help move them along a better path. Career aspirations should also play a part in employee development. If you understand an employee's current skills and destination, you can develop the appropriate strategy to guide them there.
You can accomplish this with an internal talent marketplace. You may not have heard of this term before, and you may wonder if there is an example of a talent marketplace. Companies that have any platform to match employee skills and experience to possible positions could be employing a talent marketplace.
For a precise definition, an internal talent marketplace is a virtual platform within a company that matches employees to positions based on their skills and expertise. AI is often a key part of these platforms and their software solutions.
An external talent marketplace is something that any job-searching platform should use. The "internal" part of an internal talent marketplace is referencing the fact that it is being used by a company for its own employees. With that being said, what are the applications of an internal marketplace – talent matching to positions aside – that companies should consider valuable?
There are many more tools available in an internal market. Example: When identifying the skills of your employees, many talent marketplaces offer tools for their development as well. So, once you understand their aspirations, you can recommend projects, courses, and mentorships. This makes an internal talent marketplace incredibly powerful for businesses wanting to support their companies with internal hires.
This idea may sound wonderful for many businesses, but the reality is that there is more than just one internal marketplace platform available on the market. So how do you choose? What are the fundamental features that a successful one will contain?
To help answer these questions, we will cover some of the key goals of the ideal talent marketplace. Once you understand the benchmarks you are looking for, you'll have a better idea of how to pursue the right software.
Talent Marketplace Platform
A talent marketplace platform is at its best when it emphasizes a key philosophy for businesses: internal talent development. An internal talent marketplace platform is the best way to take inventory of your employees' skills and identify a better path forward for the individual and the business as a whole.
The concept of career mobility and keeping your employees invested and growing with your business is thoroughly supported by a talent marketplace platform. In fact, another name for a talent marketplace platform is an internal mobility platform. For businesses that debate the need for their software additions, this is a great angle to present it from.
So many resources are already expended in order to attract top talent. These days, workers have much more negotiating power for their roles, so companies are going the extra mile to hire and retain workers. Having employees leave or firing them and then having to fill vacancies can be even more expensive than the process of a new hire. Vacancies severely disrupt businesses that run a tight system.
Therefore, companies should look to do everything they can to promote from within and develop the talent they already have. Not only can it help to avoid the costs and labor associated with talent search, but there are even more advantages to developing employees in your ecosystem over time.
An important part of onboarding, for instance, is about establishing company culture and acclimating people to their unique roles in your organization. It is much easier to refresh an employee when they are promoted or expand their previous understanding than it is to completely educate a new employee.
For businesses looking to minimize their HR hiring and talent expenditures while maximizing their productivity, it is important to use a talent marketplace platform. When employees' competencies and aspirations are clearly laid out, it is much easier to decide the best path forward for everyone.
Internal Marketplace
An internal marketplace is a software solution for the issue of internal talent management in companies. This internal talent marketplace helps companies identify the abilities of their workforce and will match them with positions to aspire to. This can lead to many opportunities for employee development while simplifying a lot of the responsibilities of the HR department.
Talent management and development is one of the key functions of an HR department. You need a system in place that will nurture your workforce and allow them to excel and rise within the company ranks. This is how you build a strong company culture and ensure that turnover does not add to the HR responsibilities your company will already face.
An internal marketplace platform is great because it can identify a lot of trends and, in many cases, can also identify gaps in your workforce that would require a talent acquisition strategy. Talent development alongside intelligent talent acquisition is how companies can make sure they are attracting and retaining top talent for their operations.
Right now, the labor dynamic in workforces around the world is shifting. More than ever, employment is looking like a supplier's market in favor of employees. As businesses scramble to identify the top talent, they have more opportunities to demand their own salaries and benefits.
For the employees you have and those you will hire in the future, you want to secure and build their value in your company. Salaries and benefits packages are just one way to achieve this. If you can provide for employee aspirations and develop talent from the inside, you can avoid a lot of the difficulties involved with how talent scarcity can now influence markets.
Find the talent in your own company and cultivate it, and you'll have to worry about hiring much less often.
Internal Marketplace Meaning
So far, we have attempted to sufficiently answer the question, what is internal marketplace software used for? Establishing a reliable internal marketplace meaning is not necessarily difficult, the idea is straightforward. But there is more you'll need to consider than just the internal market definition. The economics associated with maintaining these platforms and how they integrate with your current business infrastructure is important as well.
Also, you are completely in control of the power of a talent market, meaning that the tools don't use themselves. You'll need to establish best practices for your team and ensure that employees are making use of the tools provided.
AI solutions can help with data collection, organization, and communication, but getting employees to provide a detailed history of their skills and expertise is important as well. Some platforms may be able to mine this data from employee records, but the best ones will provide tools for accurate, up-to-date measurements.
Things like skill questionnaires or examinations are a great way to judge employees' competencies. After these are identified, an internal marketplace platform can then offer suggestions based on analysis built off the previously mentioned data.
Some marketplace platforms integrate with online course programs to recommend lessons for employees. Others will help outline a key path forward with a career track matched to individual employees. These are all great features that support internal talent development and lasting business success.
Talent Platform
Hopefully, by now, the benefits of a talent marketplace software have been clearly explained. A talent platform is essential for any business focused on internal talent development and management. The only questions that remain are regarding identifying the right talent marketplace vendors.
The talent marketplace market size is continuing to grow among HR software offerings. With this growth comes the usual concerns associated with software platforms. How can you identify what features are really necessary for your business? Companies love to add extra features to make a higher price seem justified when all they amount to are bells and whistles without much added value.
Other issues could arise, like finding a platform for an external market, meaning that it would not reliably apply to your internal company development. So when you're looking for an internal talent marketplace, you need to stress a few things:
It is truly "internal"
It supports your company's internal talent development
It offers tools that you integrate into your business infrastructure
It can support the scale of your company
It can fit your budget
If you have found an internal talent marketplace that can satisfy these requirements, then it should be a partnership that serves your business for years to come.
TalentGuard provides companies with the tools they need to cultivate their most valuable resource: their employees. With TalentGuard, you gain accurate insight into your employees, including their skills, credentials, performance scores, career aspirations, and much more.
By combining powerful data collection tools along with AI software for convenient organization and analysis, it has never been easier to support the internal development of your workforce.