Succession Planning Framework
See the future by planning for it
Our platform provides the succession planning framework you need to predict the company's future talent needs and choose the best candidates for the most important roles, based on a complete view of your company's collective talent.
Talent pool builder
Proactively manage succession risks and role vacancies with internal talent pools. Evaluate how well candidates match the role profile and alert management to flight risks.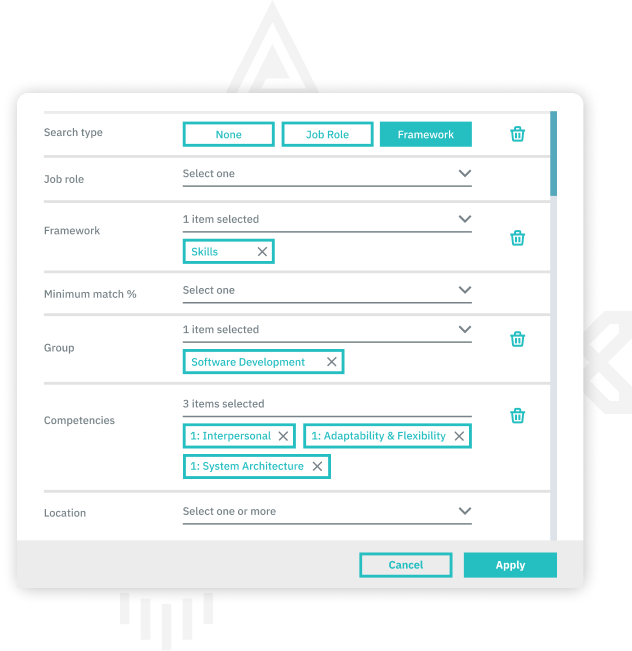 Targeted internal talent search
Recruit internally based on multiple criteria, including verified skills, competencies, performance, career aspirations, manager recommendations, and more.
Objective candidate evaluation
Reduce bias in your internal mobility decisions with objective, verified skill data. Compare candidates side-by-side based on match percentage, time-to-readiness, previous roles, preferences, and more.
A clear view of future needs
Enable managers to see their teams' bench strengths, tenure risks, and gaps in role succession so they can develop their people with an eye to the future.
Ideal candidate finder
Wish you could find someone just like your top performer? Use this flexible tool to define the skills, experiences, and other characteristics of your ideal candidate and find internal talent that matches.
A talent strategy that grows with you. Select a bundle to book a demo!
Foundation
Automate your skills management process
Foundation includes:
Intelligent Role Studio
Job and Skill Libraries
WorkforceGPT
Basic Reporting
API
Basic
Assess current skills of your workforce & close gaps
All the Foundation features plus:
Talent Assessment
Development Planning
Reporting & Analytics
30+ languages
Core
Unlock employee skill & career development
All the Basic features plus:
Career Pathing
Certification Tracking
60+ languages
Recommended
Pro
Measure the impact of upskilling on business performance
All the Core features plus:
Succession Planning
Performance Management
360 Feedback
Advanced Reporting & Analytics
90+ languages
Trusted by:


Additional information
Succession planning is the process of identifying key positions in the organization and planning for their future vacancy, often through retirement.
The benefits are prolific when you build a framework that allows you to promote from within, especially for highly-compensated and key positions. The organization gets the benefit of an incumbent who understands the company's mission, vision, and culture and who has already established relationships with colleagues and customers, and employee engagement rises when team members know they have the potential to grow. This increase in engagement leads to widespread benefits like improved retention, productivity, employee health and wellness, safety, quality, word of mouth recruitment, and more.
A succession planning framework is a thorough, documented plan that includes key components of succession planning, like the attributes necessary for success and the positions in the company that are most likely to be successful moving into a given role.
As you work through the 4 stages of succession planning, your framework is developed:
First, select a software program to support your strategy and efforts.
Then, you'll identify key positions in the organization by evaluating how critical they are and their level of risk vulnerability (an executive near retirement and no successor would be high criticality, high risk, for example) and outline the skills required to be successful in those positions.
Third, you'll determine which positions and people have the greatest potential to fill those positions based on skill set.
Finally, you'll create personal development plans to help bridge the gap and prepare incumbents for future opportunities.
The process gets easier after you build your first succession planning framework. Example frameworks are offered to new clients to guide them through the process, and most software solutions are intuitive, guiding you through a step-by-step process that makes this once-overwhelming process digestible and doable for every company.
Succession Planning Process
The succession planning process often feels overwhelming, but with software, it's transformed into a step-by-step project with prescribed deliverables. Perhaps more importantly, the tedious and time-consuming tasks of comparing the skills of your existing workforce to the skills needed for a given role becomes automated, which brings succession planning within reach for any organization.
The standard succession planning process in HRM involves choosing a software system, identifying key positions, identifying potential incumbents, and then resolving any skill deficits.
The first step is choosing a software system. Without software, succession planning is simply unattainable for most organizations. In the succession planning process in HRM, software helps with every step: identifying key positions, understanding which skills lead to success in those positions, identifying the employees in the organization who possess the majority of those skills, and helping them develop the remaining skills.
The second step is to select key positions. An exercise that can be helpful in selecting the positions that will benefit from competency-based succession planning is to give each position two scores: one for criticality and one for vulnerability. Plan for the positions that have the highest combined scores.
The third step in competency based succession planning is identifying potential incumbents. Leveraging software, you can identify positions that require a skill set most similar to the role you're planning for and then look for individuals within those positions with high performance and a desire to grow. Starting at the position level can help ensure equal opportunity and fairness.
Finally, the fourth step in any succession planning toolkit is identifying gaps between the skills possessed and the skills required, creating a development plan to bridge that gap, and implementing the development plan.
Success Planning Examples
There are many types of succession planning and other ways you can use succession planning. Where there are a limited number of key positions in the organization, there are many more employees who have a strong desire to grow. Succession planning software can help you with 'reverse' succession planning; that is, identifying employees that have a desire to grow, helping them envision potential career paths, and creating development plans to help them get there.
When you look beyond leadership succession planning, you can leverage the system and process to benefit every employee in the organization, helping them get motivated around their goals and their future within your organization. The benefits of this kind of succession planning are that employees don't need to apply with other companies for growth; they always have their eyes on the prize right where they are. Additionally, employees are always invested in skills development when they see a clear path to their future and understand how skills support their short- and long-term goals.
When it comes to succession planning, real life examples can be helpful. One engineering firm utilized succession planning software to plan for key positions in their organization. As a result, they have been able to fill most of their leadership positions internally, increasing historical knowledge and context, engagement, and retention. A manufacturing company used the succession planning framework differently. While they used to plan for key positions, they primarily utilized the functionality of the software to help their employees envision a future with the company and bridge skills gaps to support promotion. As a result, they've increased their internal promotion rate, their retention rate, their engagement rate, and their employee referral rate.
Talent Management and Succession Planning
To conclude, succession planning is the process of assessing the skills of your employees (and the skills needed to be successful in specific positions) to plan for potential vacancies and support internal promotion. The framework can also be used to help employees grow into non-leadership roles throughout the company, improving engagement, development, and retention.
The benefits of succession planning include ensuring uninterrupted business operations, retaining historical knowledge and context, and driving employee engagement, retention, referral, and well-being.
While not every organization is investing in talent management and succession planning, those who aren't are losing their employees to those who are. Employees want to work for companies that help them grow, develop, and earn more over time. If succession planning isn't in your 2023 strategy, it's time to build it in.