Competency Assessment Software
Know exactly what your people can do
Our platform provides the competency assessment software you need to deploy tailored job-based assessments that measure the skills most relevant to an employee's role, according to your career architecture. Learn exactly what your employees can do so you (and they) can apply their talents now and plan their future development.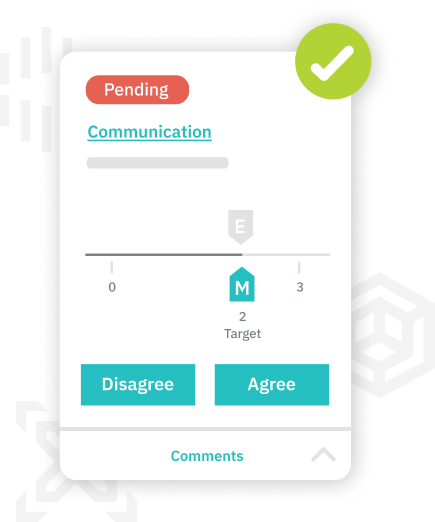 Gap analysis
Assess the gaps between your employee's current skills and the targeted skill benchmarks to accomplish organizational goals.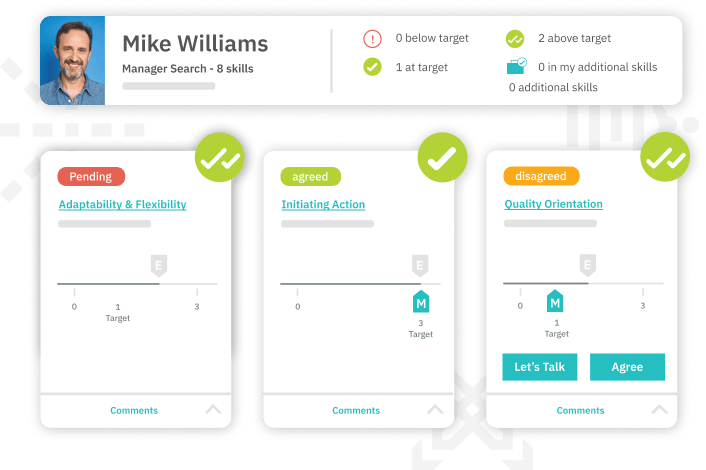 Unbiased skill verification
Assess, rank, and verify skills to understand gaps between self-perception and manager ratings. Identify ingredients for alignment, feedback, goal setting, and development.
Curated Learning Plans
Understand your employees' strengths and gaps so you can direct their professional development based on where they are, where they'd like to be, and what your company needs.
Documented new skill development
When employees learn new skills, they can document their achievements, request feedback from their manager, and track their progress toward development goals.
A talent strategy that grows with you. Select a bundle to book a demo!
Foundation
Automate your skills management process
Foundation includes:
Intelligent Role Studio
Job and Skill Libraries
Basic Reporting
API
Recommended
Basic
Assess current skills of your workforce & close gaps
All the Foundation features plus:
Talent Assessment
Development Planning
Reporting & Analytics
30+ languages
Core
Unlock employee skill & career development
All the Basic features plus:
Career Pathing
Certification Tracking
60+ languages
Pro
Measure the impact of upskilling on business performance
All the Core features plus:
Succession Planning
Performance Management
360 Feedback
Advanced Reporting & Analytics
90+ languages
Trusted by:


Additional information
Competency assessment software is a tool used by organizations to evaluate and track their employees' skills and abilities. It is often integrated with skills management software, which helps determine the specific areas where employees need improvement. Competency assessment software involves various methods such as competency assessment questionnaires or tests that gauge the employees' expertise and understanding of different areas relevant to their job roles. Competency assessment is crucial in the workplace as it helps identify the strengths and weaknesses of an organization's workforce, thereby enabling managers to effectively allocate resources and assign tasks based on employees' abilities. It also helps to ensure that employees receive relevant training and development opportunities to enhance their skills and ensure business continuity. Additionally, competency assessment software is important in identifying high-performing employees, which will support an organization in rewarding them accordingly and ultimately lead to higher employee retention rates. Overall, competency assessment software is an essential tool for organizations to improve their workforce's performance, streamline process, and enhance business growth.
Competency Assessment Test
Competency assessments are tests that evaluate employee skills, knowledge, and abilities, and are increasingly being used by organizations to ensure that their workforce is capable of meeting the demands of the workplace. A competency assessment test often consists of a set of questions that are designed to measure different skills and knowledge areas, such as problem-solving, communication, and technical skills. Alongside the test, an employee may complete a self-assessment checklist which helps managers to understand the extent of the employees' feelings regarding their skills and abilities, and the areas they feel more comfortable with, and the areas where they have weaknesses. The results of an employee competency assessment and self-assessment checklist are crucial for managers who use them to measure employee performance, identify areas of improvement, and plan training and development activities. Additionally, the review process can help ensure that employees feel valued and supported in their roles, leading to higher job satisfaction, better morale, and increased retention rates. In summary, competency assessments can help enhance employee performance, foster growth and development, and support the achievement of organizational goals.
Competency Assessment Tool
In today's dynamic and ever-changing business landscape, companies seek ways to measure and assess the competencies of their workforce effectively. Competency assessments are a vital tool for employers to evaluate their employees' capabilities and identify areas where they need improvement. One of the significant benefits of using software for competency assessments is that it streamlines the process, making it easier for companies to identify the skills and knowledge gaps in their workforce. By using software, rather than wasting time to develop competency assessment tools, organizations can carry out these assessments in less time and with more accuracy, which contributes to significant cost savings. There are numerous examples of competency assessment tools that are available.
A competency management system is a comprehensive software tool that enables companies to manage and develop their employees' competencies efficiently. This system allows managers to track employee progress and identify areas where they need further development. With a competency management system, organizations can make better business decisions by investing in training programs that will improve their employees' skills and, in turn, improve overall productivity.
Competency Assessment Tools Human Resources
Providing Human Resources with competency assessment tools, such as an employee competency assessment template or an employee skills assessment template, can have a significant impact on HR results. By utilizing these assessment tools, HR professionals can improve the efficiency of the hiring process by identifying the skills and competencies required for each position and ensuring that candidates possess those skills. Furthermore, competency assessment tools allow for increased objectivity in employee evaluations, as they provide a clear framework for evaluating performance based on specific competencies and skills. This helps to foster a fair and unbiased appraisal process, which can lead to increased employee engagement and satisfaction. Additionally, these tools can help to better align employee skills with job requirements, ensuring that each employee is put in a position that maximizes their potential and contributes to the overall success of the organization. Lastly, competency assessment tools can lead to enhanced employee development and training opportunities, as they provide a clear roadmap for identifying areas where employees may need additional support, training, or development. Ultimately, by leveraging competency assessment tools, human resources can help to foster a more effective, efficient, and impactful workforce that is equipped to achieve organizational objectives.
Best Competency Management System
Competency management is an essential part of talent management that involves identifying, assessing, and developing measurable competencies among employees. The best competency management system should include a robust framework that enables managers to identify the existing skills and knowledge gaps in their team, create a plan for developing the required capabilities, and monitor progress. The system should also provide continuous feedback to help employees improve their skills and measure their performance against pre-determined benchmarks. To achieve these goals, companies often use competency management system software that enables them to streamline their talent management process and ensure the effectiveness of their workforce. The right system not only helps talent managers identify and develop the skills they need, but also attract and retain the best talent in the industry. Therefore, investing in the best competency management system is crucial for companies that want to remain competitive in today's fast-paced market.