Employee Assessment Tool
Know exactly what your people can do
Our platform provides the employee assessment tool you need to deploy tailored job-based assessments that measure the skills most relevant to an employee's role, according to your career architecture. Learn exactly what your employees can do so you (and they) can apply their talents now and plan their future development.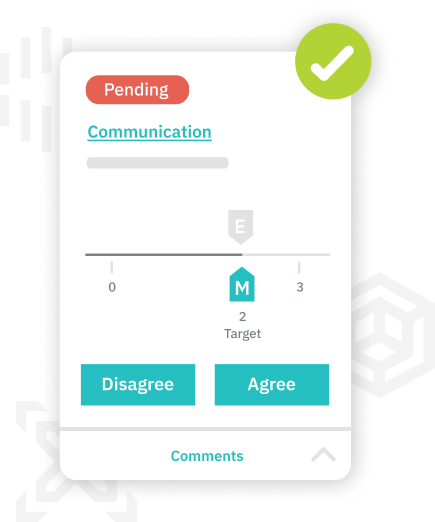 Gap analysis
Assess the gaps between your employee's current skills and the targeted skill benchmarks to accomplish organizational goals.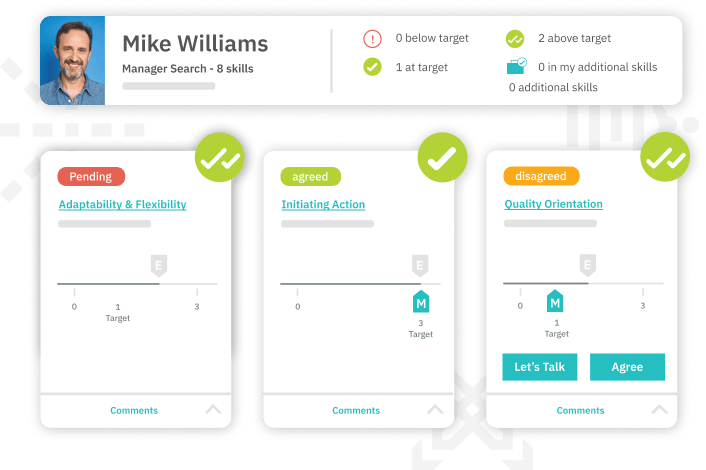 Unbiased skill verification
Assess, rank, and verify skills to understand gaps between self-perception and manager ratings. Identify ingredients for alignment, feedback, goal setting, and development.
Curated Learning Plans
Understand your employees' strengths and gaps so you can direct their professional development based on where they are, where they'd like to be, and what your company needs.
Documented new skill development
When employees learn new skills, they can document their achievements, request feedback from their manager, and track their progress toward development goals.
A talent strategy that grows with you. Select a bundle to book a demo!
Foundation
Automate your skills management process
Foundation includes:
Intelligent Role Studio
Job and Skill Libraries
Basic Reporting
API
Recommended
Basic
Assess current skills of your workforce & close gaps
All the Foundation features plus:
Talent Assessment
Development Planning
Reporting & Analytics
30+ languages
Core
Unlock employee skill & career development
All the Basic features plus:
Career Pathing
Certification Tracking
60+ languages
Pro
Measure the impact of upskilling on business performance
All the Core features plus:
Succession Planning
Performance Management
360 Feedback
Advanced Reporting & Analytics
90+ languages
Trusted by:


Additional information
The talent assessment process can be challenging to navigate. Have you ever had an employee who excelled independently, but didn't master the role of leader? Or an employee who was fantastic at getting the best out of a team, but not exceptional at working with certain aspects of the project at hand?
Each employee has their own strengths and weaknesses. An employee assessment tool can help your organization get a better picture of each employee. It can also help the individual employee navigate their own career path by highlighting the skills they need to cultivate in order to move forward.
Talent assessment tools are simple to use, but provide an amazing depth of information. To start, the employee would complete a self-review. Then, their direct manager would verify the self-given ratings. Often, employees have a skewed idea of their own abilities, and it doesn't always entail them rating themselves higher than they deserve. Sometimes they underestimate how well they perform. When you use both the employee's rating and their manager's verification, you get a clearer picture of their skills and development for set tasks in their role.
Talent assessment methods that use ratings from both the employee and external supervisors offer a more accurate picture and help highlight strengths and areas for improvement.
HR Assessment Tools
Talent assessment tools for succession planning help your HR department develop fully functional internal recruitment assessment methods. Succession planning is an important aspect of employee retention because many of your employees are looking for organizations that will promote from within.
An organization that devotes resources to helping staff grow professionally sees higher rates of job satisfaction and a much lower rate of churn in employees. When employees are happy and stay longer, organizations build a better culture and a more productive workforce.
The HR assessment template allows your managers and HR professionals a seamless process to build out succession planning based on the employee skills assessment questionnaire and other HR assessment methods. The tools available on a platform solution give your managers and HR professionals the ability to generate reporting features that showcase individual departments and whole organizational needs. You can effectively pinpoint which skills you have gaps in so that you can develop training opportunities to increase competency among staff.
HR can use these tools to help individual employees plan their career trajectory. They can also use these tools to make certain that your teams have the perfect skill sets available for any project as it happens. Management will be able to see when cross training is a possible solution to staff shortages and they can highlight members that might be developed for promotion in the future.
Skills Assessment Tools
Skill assessment platforms offer your team an all-in-one solution to help assess skills and keep talent management data in one place. This makes the task of assessing individual employees and working with succession planning far less complicated for management and HR staff.
One database houses all of the information and you can easily access employee records as you need them. You can also cross check employees by skill. For instance, if you need an employee on a team to have a specific proficiency, you can search by that skill and competency level to find a list of current employees who match the search criteria.
The skill assessment methods used on your platform are uniform, so that you can adequately compare different skills assessment surveys from employee to employee. This makes it much easier to see how one employee's skill level stacks up against another's.
With a database solution, you can generate skills reporting for the entire team or organization. This can help your HR department determine which skills your organization needs to build and offer options to further training. It can also help with succession planning in the organization. For your employees, the skills assessment tools give them an opportunity to see where they might benefit from more training and what types of skills they need to improve in order to prepare for the next position they want to obtain in their careers.
Best Employee Assessment Tools
There are a variety of tools to assess skills and competencies. There are free competency assessment tools you can try, and a selection of assessment examples you can find. However, it takes a lot of manual work for HR and management to go through testing results and assessment records without a comprehensive way to compile them.
An assessment platform offers the best option because the assessments are designed with human resource expertise. All of the tools and assessments are available in one location, making it much easier to use for management and employees. This all-in-one solution can scale with your business. Whether you have fifty employees, or fifteen hundred, you can easily see which skill sets you have available in your current workforce. This makes it much easier to highlight employees for promotion and cross-training opportunities.
An added benefit to the options available in a platform solution is the ability to predict needs in your workforce. You can proactively look for skills that may be lacking currently so that you can build training opportunities to address these skill gaps and offer better advancement opportunities to current staff.
For employees, a platform solution is also a great benefit. Employees can take advantage of the opportunity to take skills assessments that can help them move toward career goals. They can easily see which skills are missing, which means that they take steps to add the learning and experience they need to their resume in order to move forward. Employee skill assessments can also offer a good way for employees to build confidence in their abilities to perform current and future job requirements, while showing them exactly how to build new skills to succeed.
Platform solutions give your business an efficient way to gather skill information about the entire company. The platform allows you to generate reports to help manage human resources, develop initiatives for company growth, and foster a supportive system for all employees to flourish.