Talent Assessment Tools
Know exactly what your people can do
Our talent assessment tools help you identify all of the skills that your talent currently possesses. With this insight, you can better apply their talents to their current role and also plan for their future development.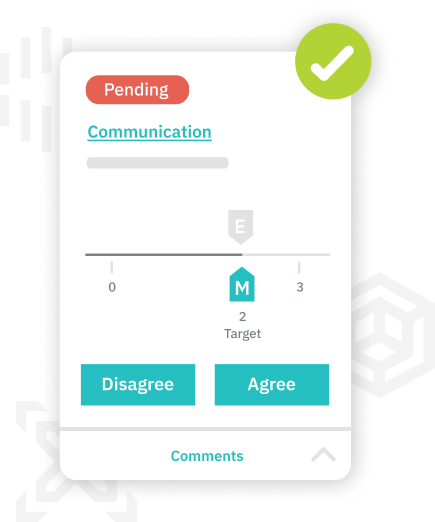 Gap analysis
Assess the gaps between your employee's current skills and the targeted skill benchmarks to accomplish organizational goals.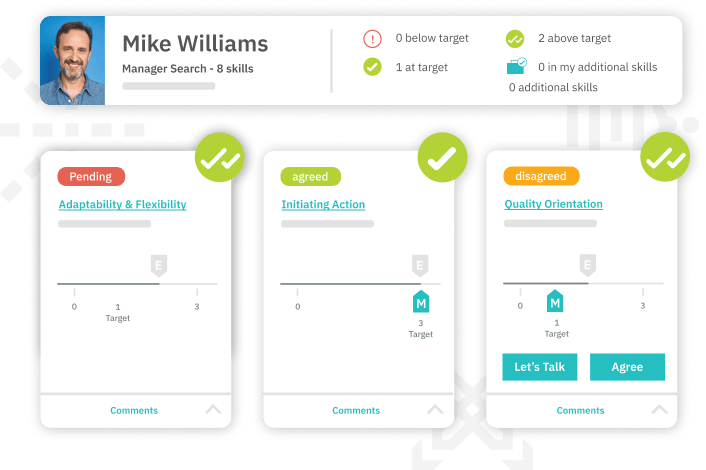 Unbiased skill verification
Assess, rank, and verify skills to understand gaps between self-perception and manager ratings. Identify ingredients for alignment, feedback, goal setting, and development.
Curated Learning Plans
Understand your employees' strengths and gaps so you can direct their professional development based on where they are, where they'd like to be, and what your company needs.
Documented new skill development
When employees learn new skills, they can document their achievements, request feedback from their manager, and track their progress toward development goals.
A talent strategy that grows with you. Select a bundle to book a demo!
Foundation
Automate your skills management process
Foundation includes:
Intelligent Role Studio
Job and Skill Libraries
WorkforceGPT
Basic Reporting
API
Recommended
Basic
Assess current skills of your workforce & close gaps
All the Foundation features plus:
Talent Assessment
Development Planning
Reporting & Analytics
30+ languages
Core
Unlock employee skill & career development
All the Basic features plus:
Career Pathing
Certification Tracking
60+ languages
Pro
Measure the impact of upskilling on business performance
All the Core features plus:
Succession Planning
Performance Management
360 Feedback
Advanced Reporting & Analytics
90+ languages
Trusted by:


Additional information
Having the right talent assessment tools can help increase visibility into your workforce. When you're able to properly evaluate the skills of your organization's talent, you can better identify skill gaps that could become costly if not addressed.
Understanding the talent assessment process
It's important to recognize each team member and what they contribute to the company. Embracing the concept of talent assessment, meaning you're willing to take a deeper look into skills and role organization, development planning, and other areas to upskill and reskill your employees helps create a strong culture. From the onset, a talent assessment test should be a requirement for all team members.
What is a talent assessment test?
These types of tests are used as part of a process to identify candidates that excel in certain areas. They also assess the workstyle, knowledge, personality, and skills of current employees. There are various types of talent assessment tests used based on the organization, current position, and job the employee may be considered for. These may include job simulations, work samples, job trials, exercises and games, and cognitive ability testing.
The best talent assessment tools directly reflect the culture of your organization. When employees fully understand the company's strategic goal of engagement, performance, and retention, they realize the value they bring, and the value the company wants to enhance. This also results in decreased attrition, increases in productivity, and cost savings for the organization.
A good talent assessment process is objective, unbiased, transparent, fair, and aligns with the overall strategic goals. If you're looking to promote from within, this process starts from the moment the employee is hired. Having a schedule of training, and an outlined path for future success demonstrates the company's commitment to longevity and a culture that cares.
Skills Assessment Tools
Understanding the capabilities of your existing talent is key. Skills assessment tools should provide a dynamic skills taxonomy that stays updated as the skills attached to current positions shift and adapt within the workplace. Once these skills are identified and attached to individual employees, they can be done online or with in-person software assessments to measure proficiency levels. Assessment tools are continuously evolving, offering insight into numerous areas that develop long-term value.
Talent assessment for existing employees
There are specific talent assessment questions and answers used based on different roles. A talent assessment for existing employees begins with looking at organizational challenges and needs. Once these challenges and needs are identified, it is easier to develop online assessment test questions that focus on particular skill sets.
Asking the right questions, like how you can pinpoint internal talent that will succeed in certain positions, and how to identify effective candidates for leadership is a good start. In a competitive market, retaining valuable talent is crucial to the organization's success.
Understanding assessment trends make a difference in providing personalized and contextualized assessments. One of the advantages of online assessments is that you receive immediate results and feedback, and you can create immersive experiences that probe deeper into your talent's capabilities.
Succession Planning Framework
When developing a talent assessment strategy, employee skills are an essential element of a strong succession planning framework. There are many talent assessment tools for succession planning that help identify top talent while creating a blueprint for how they can move forward within the organization as individuals move up or out.
While there are templates you can follow, an intuitive software solution that can interpret your tested and verifiable skills assessment data can help you make more intelligent succession decisions and even create talent pools. These succession planning tools templates can help identify the skills your employees need to develop to be successful in the future.
What does a succession planning toolkit include?
When identifying all the critical positions within the organization, this process helps make sure the right people are in the right roles, strategically aligning for the future. The toolkit helps with job assessment questions and answers, ties the questions to business goals, engages C-suite leaders in the process, defines the development of key talent, and ensures all employees understand their role throughout the process and what the company expects from them.
Most toolkits have a series of steps:
Identifying significant business challenges that may occur within the next five years
Identifying critical positions needed to ensure business continuity
Identify the competencies, skills, and knowledge that are critical to the organization's success
Consideration of high-potential employees
Selection of competencies each employee needs to be successful in different roles while meeting identified business challenges
Talent Assessment Framework
There are several ways to handle talent assessment. In fact, some organizations still use manual processes where individuals attempt to interpret questionnaires. The best talent assessment tools have a solid verification process and can communicate data across the talent management strategy. This talent assessment framework helps gain talent visibility, builds employee career paths, development plans, aids in succession planning, and can automatically update information.
There are different talent assessment examples that examine observable, direct measures of performance to more indirect measures of performance. The talent assessment questionnaire often includes work simulations that help identify innate ability and acquired knowledge, skills, and experience.
These talent assessments include cognitive ability assessments that measure mental abilities such as reasoning, reading, verbal comprehension, and numerical ability. Some companies also give personality assessments to determine how well the employee fits in with the internal culture. Personality assessments measure job-relevant characteristics. Another type of assessment includes integrity assessments, which measure attitudes and experiences as they relate to dependability, trustworthiness, and honesty, and then biodata assessments probe employees about past experiences in their current areas that may predict future performance in a new position. Job knowledge assessments, situational judgment tests, and automated writing assessments are also used to help identify where current employees may be better utilized.
Using talent assessment companies that are well-versed in successfully using talent assessment tools helps strengthen the internal infrastructure while providing an opportunity for employees to learn and grow. When implemented correctly, organizational culture thrives while improving the bottom line.