The Best Way to Manage Employee Skills
The ready-to-use system of truth
Discover the best way to manage your employees' skills with TalentGuard's world-class skills intelligence platform. Gain the ability to create or extend your competency frameworks, customize job profiles, assign learning and development options, govern workflow and collaborate with other talent management applications.
Create
Ability to create, edit and compare multiple competencies, including: Skills, Experiences, Qualifications and Preferences that are required for job functions.
Map
Ability to map competencies, job grades, learning resources and other data to job profiles.
Calibrate
Job Profile calibration includes adjusting the level of proficiency and importance level of associated competencies across job profiles and grade levels.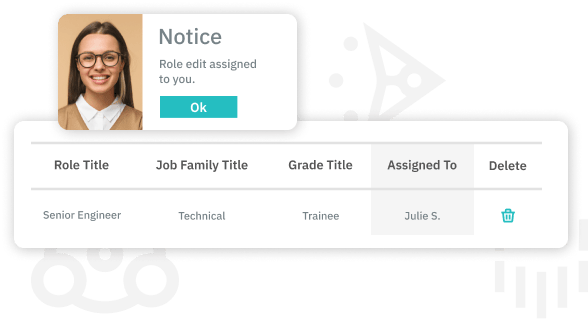 Govern
Manage entitlement, rules, roles and policies to seamlessly govern job role data.
A talent strategy that grows with you. Select a bundle to book a demo!
Foundation
Automate your skills management process
Foundation includes:
Intelligent Role Studio
Job and Skill Libraries
Basic Reporting
API
Recommended
Basic
Assess current skills of your workforce & close gaps
All the Foundation features plus:
Talent Assessment
Development Planning
Reporting & Analytics
30+ languages
Core
Unlock employee skill & career development
All the Basic features plus:
Career Pathing
Certification Tracking
60+ languages
Pro
Measure the impact of upskilling on business performance
All the Core features plus:
Succession Planning
Performance Management
360 Feedback
Advanced Reporting & Analytics
90+ languages
Trusted by:


Additional information
Understanding, developing, and quantifying employee skills is crucial to an organization's growth and viability. While they are both important, there's a difference between employee skills and competencies. Employees may offer powerful skills but lack the competency to execute them properly. Every position requires different talent, but there are some overarching skills that make up a valuable employee.
Job Skills Examples
When an employee possesses the ability to perform a task, action, or process, that is considered a skill. An employee may have skills for job application for some tasks and not others.
There are numerous job skill examples. Customer support positions need team members with customer service skills and problem-solving skills. Technology roles would need computer proficiency. Qualities of a good employee candidate for a management role are leadership and communication skills. Marketing positions almost always need people with creative thinking skills.There are many words to describe a good employee, depending on the role.These job skills examples highlight the specific needs and requirements of a position and how they differ from another.
Qualities of a Good Employee Candidate
"Quick learner, creative, responsible, dependable, smart, helpful, and savvy" are words to describe a good employee. Let's look at four across-the-board skills that make up a valuable employee.
Almost all positions, regardless of level or department, benefit from an employee possessing and innate willingness to learn. Many employees don't openly embrace change, but the best ones won't fight it. The ones that are enthusiastic about learning and growing both their personal skill sets and their roles within the company are valuable assets.
Conflict-resolution skills is also included when we're discussing qualities of a good employee candidate. This is because there are personality, stress-induced, or workload conflicts in every company. An employee who can calmly and rationally address and mitigate these episodes from escalating are helpful to everyone's productivity.
A third top quality job candidates offer is problem-solving skills. A person who only wants to complain about problems can bring down the morale of every team member and hinder progress. Employees who acknowledge the issue and then tackle it to find a resolution keep projects on track.
Last but certainly not least on the list of qualities of a good employee candidate are communication skills.Being able to communicate is one of the best qualities of a good employee candidate. The highest-performing team members are the ones who can understand and share ideas that improve the company in some way.
Examples of Skills
There are different categories of skills, depending on the person and the role. Keep in mind that employee skills for resume review may change due to advances and trends.
The first of our examples of skills are hard skills. These are gained through training and education. They are finite, quantifiable, and measurable. Hard skills for resume purposes could include anything from web analytics to drafting to graphic design to press release writing.
Then there are special skills. Depending on the job position, the employee may need special skills to perform their duties. These are vital employee skills for resume review. Some special skills examples would be a welding certificate, a CPA license, being bilingual, and JavaScript.
Using an example of skills on a resume makes the person more competitive. If others don't offer the employee skills example, it stands out. Special skills change with the times. For example, technology has evolved dramatically in the last decade, as has the internet. Skills that were impressive before aren't considered unique or special today. At one time, being able to operate a multi-line phone system may have been a top skill. Now that is irrelevant.
Finally, there are characteristics of good employee skills. The characteristics that make up good employee skills start with anything that required additional training or experience. Degrees and certifications are examples of good characteristics. These are quantifiable evidence of a candidate's skill set that resonates with employers.
Personal Skills
Personal skills in business are sometimes just as important as professional skills. Companies want people who offer employee skills and knowledge. Organizations can tap into the personal skills they want their candidates to possess if they do thorough talent assessments.
Knowledge, skills, and abilities examples are helpful to employers. There are many examples that highlight an employee's skills and abilities. For example, a marketing person's SEO knowledge or an accountant's knowledge of tax laws. A graphic designer may offer the ability to use Adobe, while a mechanic may offer skills to repair a certain make and model of vehicle.
Personal skills offer value, too. Some valuable personal skills employers look for are reliability, honesty, adaptability, level headedness, self-motivation, resourcefulness, and organized. These skills are less about training and education and more about an individual's personality and belief system.
Professional Competencies
Employee competencies are different from employee skills. Professional competencies refer to the ability to execute their skill correctly in a real-world environment. In this scenario, the environment is the workplace. Employee core competencies are essential parts of job success.
Employee competencies are critical to the position's success. Even if an employee offers hard skills like degrees and certifications, it doesn't mean they can do the job. They need to be competent to perform well. Some employers create a competency model to ensure they hire people with both skills and competencies.
Let's look at a couple of workplace competencies examples.
An example of knowledge and skills would be an auto mechanic who has watched an oil change being performed. The mechanic has knowledge of how it's accomplished, but hasn't done it first-hand, so the skill is lacking.
Workplace competencies examples would be if a marketing executive had to manage a project. They may have good organizational and planning competencies but may lack the skill of using project management software.
Knowledge, skills, and competencies examples play off each other, with each being important to the end result. The importance of employee competency is that it can be the granular difference in a person succeeding or failing.
Competencies within employees can be nurtured with four steps. First recognize the skills gap. Second, plan how to increase the competency. Third, communicate the plan to the employee and get buy in. Finally, analyze the employee to see if they've improved.
Employee Skills Matrix
If you know what employee skills and competencies are, you can use software to create an employee skills matrix. Skills matrix software is a tool to map required and desired skills for a team or project. It is a grid that visualizes the required and available skills and competencies in a team. Employees are divided into several skill matrix levels of proficiency, from none to advanced.
Using an employee skills matrix is beneficial because they take the subjective nature of feedback out of the equation. Looking at it in a grid with skill matrix levels helps visually digest the information.
In addition, being able to see the employee skills and competencies in a visual format makes it easier to identify strengths and weaknesses. From there, employers can capitalize on the strengths and address the weaknesses through training and coaching.