Competency Mapping Software
The ready-to-use system of truth
Our platform is the best-in-class competency mapping software. Don't let your skills and competency data remain unused inside a spreadsheet. Get the ability to create or extend your competency frameworks, customize job profiles, assign learning and development options, govern workflow and collaborate with other talent management applications.
Create
Ability to create, edit and compare multiple competencies, including: Skills, Experiences, Qualifications and Preferences that are required for job functions.
Map
Ability to map competencies, job grades, learning resources and other data to job profiles.
Calibrate
Job Profile calibration includes adjusting the level of proficiency and importance level of associated competencies across job profiles and grade levels.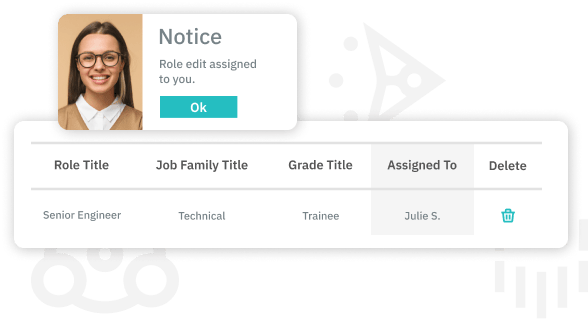 Govern
Manage entitlement, rules, roles and policies to seamlessly govern job role data.
A talent strategy that grows with you. Select a bundle to book a demo!
Recommended
Foundation
Automate your skills management process
Foundation includes:
Intelligent Role Studio
WorkforceGPT
Job and Skill Libraries
Basic Reporting
API
Basic
Assess current skills of your workforce & close gaps
All the Foundation features plus:
Talent Assessment
Development Planning
Reporting & Analytics
30+ languages
Core
Unlock employee skill & career development
All the Basic features plus:
Career Pathing
Certification Tracking
60+ languages
Pro
Measure the impact of upskilling on business performance
All the Core features plus:
Succession Planning
Performance Management
360 Feedback
Advanced Reporting & Analytics
90+ languages
Trusted by:


Additional information
Competency mapping is the process of identifying and understanding the skill set of each employee in your organization as it relates to their role, department, trade, or profession. This typically includes a comprehensive map of the behaviors, traits, competencies, knowledge, and skills the employee possesses today in comparison to those they need in order to perform at the top of their license or skill set.
Organizations set out on a journey of competency assessment or competency mapping for a number of reasons:
To identify each individual's strengths and areas of opportunity, empowering employees to better understand themselves and hone their personal development efforts
To best direct training and development resources in the organization to the areas where there is greatest opportunity for growth and development
To drive performance; employees perform at their highest level in an effort to drive their mapping goals
To drive decisions about internal transfers and promotions based on individual competency and potential for success
To give employees personal and professional growth opportunities; employees often gain much from competency mapping that they can take with them in their careers (which serves as a recruitment and retention tool)
In order to achieve these results from your competency mapping initiatives (and in order to measure the results you've achieved), competency mapping tools are imperative.
What does competency mapping software do? It allows you to assign specific competencies (behaviors, traits, knowledge, and skills) to one or more roles throughout the organization, and then determine how the people in those roles measure up over time and share that information transparently with them to drive performance. This puts the data you need to make business decisions in the palm of your hand, driving an efficient, effective, data-driven organization – and it's all automated.
In short, competency mapping gives you the edge over your competitors and competency management software makes it possible.
Skill Mapping
Getting started with skill mapping when you first launch this initiative might seem overwhelming, but when the help of skills management software (and a team who can tell you how to do skill mapping), the initial set-up is relatively easy, especially considering the substantial return on investment.
The early steps are comparable for most organizations:
Determine which skills are required for the roles in your organization. You can choose from an inventory of skills and assign them to one or more roles within your organization. For example, perhaps every role in your organization needs listening skills but not every role requires computer programming or Six Sigma competencies.
Assess how the organization stacks up against those role-based competencies by administering initial assessments and sharing the results with the individuals in your organization (typically one-on-one conversations between managers and their direct reports).
From there, ongoing assessments are generally administered to continuously adjust the definition or understand how employees are making progress to close the gap. Data from the assessments can also be used to drive personal and professional development programs, service line development, and transfer and promotion decisions.
Skill mapping tools automate process by maintaining an inventory of your roles, skills, people, and results and offer you dynamic reporting capabilities so you can extract data that's meaningful to your organization. It's important to plan some time for the initial build, but once you've incorporated competency mapping into your culture – and found a skills mapping software to automate the process for you – it typically fits well into previously existing workflows.
Skill mapping is equally advantageous for employees as it is for the organization as it serves as a complimentary addition to the benefits package: a completely free, completely tailored professional development program.
HR Competency Model
Your HR competency model serves as the foundation for your competency mapping program. An HR competency model is a guideline, usually developed by the human resource department, that clearly outlines the specific competencies that an employee must possess in order to successfully perform their job. Models are usually developed using of the following methods of competency mapping:
Expert Opinion – In this method, an expert from HR consults with one or more experts from other departments/disciplines to determine the key competencies for each role. A criticism is that employees and direct managers have been excluded from the process.
Workshops – Here, employees, managers, experts, and a facilitator meet to determine competencies. These workshops may include discussion, flip charts, reference to job descriptions, and possibly even reference to critical incidents, although it isn't the driving factor behind decisions.
Structured Interviews – In this method, interviews are conducted with stakeholders (both job holders and managers) to explore the competencies most vital to success in each role. All data is compiled when interviews are complete to determine which competencies to include in the model.
Questionnaires – Questionnaires can be a less time-intensive way to collect data from participants and many questionnaires are already developed for this purpose.
There are still additional methods not listed here, as well as extensive details and research pertaining to each method not described in detail in this article. At the end of the day, each organization will need to determine the best competency models for their industry, organization, and talent.
In summary, competency mapping is critical to organizational competitiveness and relevance and provides equal benefit to employee and employer. Competency mapping software automates the process, making data collection seamless but most importantly, making that information meaningful to your organization so you're able to make data-driven business business.