Skills Tracking Software
The ready-to-use system of truth
Our platform provides a best-in-class skills tracking software. Don't let your skills and competency data remain unused inside a spreadsheet. Get the ability to create or extend your competency frameworks, customize job profiles, assign learning and development options, govern workflow and collaborate with other talent management applications.
Create
Ability to create, edit and compare multiple competencies, including: Skills, Experiences, Qualifications and Preferences that are required for job functions.
Map
Ability to map competencies, job grades, learning resources and other data to job profiles.
Calibrate
Job Profile calibration includes adjusting the level of proficiency and importance level of associated competencies across job profiles and grade levels.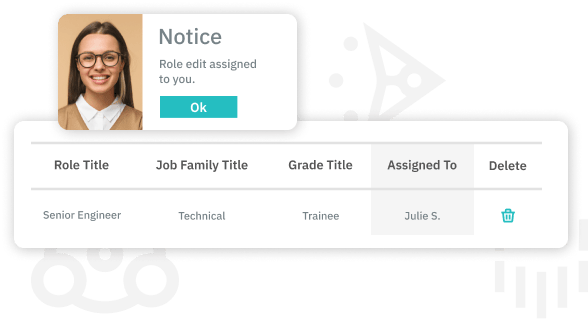 Govern
Manage entitlement, rules, roles and policies to seamlessly govern job role data.
A talent strategy that grows with you. Select a bundle to book a demo!
Recommended
Foundation
Automate your skills management process
Foundation includes:
Intelligent Role Studio
WorkforceGPT
Job and Skill Libraries
Basic Reporting
API
Basic
Assess current skills of your workforce & close gaps
All the Foundation features plus:
Talent Assessment
Development Planning
Reporting & Analytics
30+ languages
Core
Unlock employee skill & career development
All the Basic features plus:
Career Pathing
Certification Tracking
60+ languages
Pro
Measure the impact of upskilling on business performance
All the Core features plus:
Succession Planning
Performance Management
360 Feedback
Advanced Reporting & Analytics
90+ languages
Trusted by:


Additional information
Skills tracking software helps you identify your employees' skills and track their progress in your training program. You can use skills software to manage all workforce skills data, creating a skills repository to evaluate how individual skills match up against skill requirements for their job.
A job skills database will inform the business of training gaps in the workforce and clarify areas where growth would be beneficial for departments or individual employees. Skills tracking software can also help establish upward mobility paths for employees who want to prioritize their professional development.
Is a Skills Tracking Software Necessary for Your Business?
As policies change or industry expectations shift, skills software is needed to keep your workforce on the same page. Even when trainings are held for an entire department or the whole company, certain employees might be out sick or on vacation. Companies use skills tracking software to ensure no one falls through the cracks.
With today's educational methods, many companies use eLearning or a hybrid model for training employees. Employee skill matrix charts can be used to track which employees have completed the online portion of their eLearning since it is often separate from any in-person group training events. While eLearning allows a more flexible learning timeline, it also makes it much harder to know who is up to date on their required professional development. As employees complete the virtual training sessions, the skills tracking software is updated to provide a clear picture of who needs additional prompting.
Additionally, there is a need for the software to also determine the competency level for each employee. When assumptions are made based on training hours or employee perspective alone, then some employees will look more skilled and experienced than they really are. If your skills tracking software is going to be any good, it has to catch skills gaps where employees aren't truly equipped to perform a skill, despite training or real-world experience.
Skill Matrix Example
Before skills tracking software, an employee skill matrix chart was created in an excel spreadsheet. Most companies would list the name of each employee, their role in the company and how proficient they were at a given skill. Some companies would use terms (basic, competent, advanced, expert) on their skills matrix excel sheet, while other companies might use a number scale to clarify capabilities. All of this information was updated manually, typically by HR managers when they were notified by department heads.
In today's world, keeping up with spreadsheet updates is highly inefficient. Not only will a manual data entry waste an employee's time, but it is more likely to contain errors and provide outdated information. With a sole document tracking the numbers, it is also easy for companies to have outdated copies still floating around.
Current skill matrix examples are automated to update as employees complete training. Top employee skill matrix software makes the process more efficient and provides more accurate data. Not only should current technology make it easier to track data, but it also enables fast and accurate reporting. Visual reports clarify where employee workforce gaps exist and training is needed.
Plus, today's skills tracking software makes it easy for department heads to check information at any time. Anyone with access to the software can see the updates to the platform without needing the latest copy of a document.
Skills Management Software
A skills and competency management software is similar to skills tracking software. Skills management software is used to house all skills data for your workforce in order to apply that data throughout other talent management practices. The best skills management software will update skills as they change and understand the skills, experiences, capabilities and proficiencies required to do a job well.
This software helps leaders look at the ability levels of their teams from a centralized library. With an overarching database to manage skills tracking, leaders can map out skills needed to improve individual employees. It is important to pinpoint areas where professional development could enable a company to scale more effectively, offer additional services or better match customer demand. It makes it easier for HR leaders to see what skills are missing within the company, improving the hiring process by targeting talent to fill skill gaps.
Skills management software typically integrates with other important software for HR leaders, including performance management software, competency assessment software and learning management systems (LMS). This seamless integration makes it easier for executives and upper management to compile important data and update their results continuously through automation.
Competency Assessment Software
Competency assessment software is used to assess how an employee evaluates his or her skill compared to how their manager views them. It is important to understand if there is any disconnect between what the employee sees and what leadership experiences. Some employees believe they are capable when the managers determine they are inexperienced. In other cases, management may not realize a skill set that an employee has because it hasn't been tested.
In some cases, skills gap analysis software may not catch a lack of proficiency. For example, an employee could take a course on a specific skill but not pick up enough of the information to display competency. While the skills tracking software might initially see the training as completed, the competency assessment software would provide greater insight into the true nature of those skills.
When there is a gap between the two evaluations, skill gap analysis software is used to determine the difference between the current state of competency and the desired level of competency for a given skill. The employee can then develop further in order to meet the benchmarks required for the skill in question.
Organizations need a platform that can manage all of these areas in order to operate effectively. A company is only as strong as the workforce it can put together and keep engaged. With the latest technology to help monitor employee capabilities, leadership can form the strongest team possible.