Skills Mapping Software
The ready-to-use system of truth
Our platform has a the best-in-class skills mapping software. Don't let your skills and competency data remain unused inside a spreadsheet. Get the ability to create or extend your competency frameworks, customize job profiles, assign learning and development options, govern workflow and collaborate with other talent management applications.
Create
Ability to create, edit and compare multiple competencies, including: Skills, Experiences, Qualifications and Preferences that are required for job functions.
Map
Ability to map competencies, job grades, learning resources and other data to job profiles.
Calibrate
Job Profile calibration includes adjusting the level of proficiency and importance level of associated competencies across job profiles and grade levels.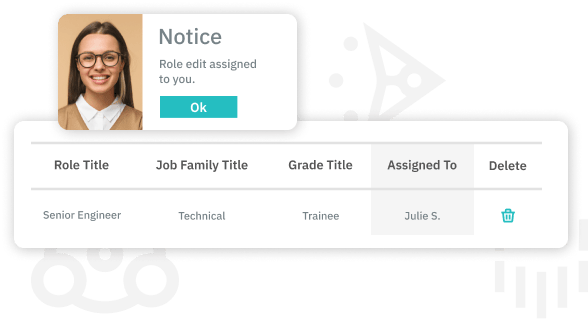 Govern
Manage entitlement, rules, roles and policies to seamlessly govern job role data.
A talent strategy that grows with you. Select a bundle to book a demo!
Recommended
Foundation
Automate your skills management process
Foundation includes:
Intelligent Role Studio
WorkforceGPT
Job and Skill Libraries
Basic Reporting
API
Basic
Assess current skills of your workforce & close gaps
All the Foundation features plus:
Talent Assessment
Development Planning
Reporting & Analytics
30+ languages
Core
Unlock employee skill & career development
All the Basic features plus:
Career Pathing
Certification Tracking
60+ languages
Pro
Measure the impact of upskilling on business performance
All the Core features plus:
Succession Planning
Performance Management
360 Feedback
Advanced Reporting & Analytics
90+ languages
Trusted by:


Additional information
Skills tracking software is a solution that helps your company understand its workforce with greater clarity. You can use skills tracking to see individual employee skills, the competencies that you have among the entire staff, company-wide, and broken down by individual departments. This is an excellent asset for companies as they map out new business strategies and gain insights into their growth.
This is difficult to do manually, and many companies miss out on the benefit of understanding their workforce to a greater degree. They rely on memory and generic job descriptions rather than using skills mapping software to truly understand the staff they have. Your employees will have many skills that they may not be using in their current position. With a skills tracking process in place, you can see at a glance where your employees can benefit from cross-training and if you're using your workforce efficiently to its full capacity. If you don't have a process in place to track workforce skills, it's likely that your company doesn't have a true understanding of what your workforce has to offer.
By using skills gap analysis software, your company can easily see which skills need more training and the types of professionals that you might be missing or in short supply of. Skills software makes the hiring process far more intuitive. Another benefit is that you can easily see where employees might be cross-trained or be able to fill in for other departments. As you plan future projects, you can proactively assess which skills will be necessary to make these initiatives successful. In this way, you can understand the positions you'll need to hire and where your current staff will most productively fit into these new teams and processes.
Skills Matrix Software
An employee skill matrix is the visual form of your skill mapping. The software makes it easy to organize, create, and edit your matrix. By following an intuitive workflow, developing a skill matrix for workers is far less time-consuming. Using a software solution is more convenient, so your managers are likely to update and get actionable insights from the information. Your skill matrix software includes reporting options to make insights actionable and allow for various views of your current staff.
What is a Skills Matrix?
Your skills matrix is the visual representation of your workforce. You can create matrixes by department, as well as a whole company overview. Each employee and skill is identified on a visual chart, so you can easily see which skills employees possess and how much expertise they have in each field. You can use this chart to understand the entire workforce and specific departments. The chart can also be used to get a good view of individual employees, their growth, and the training they might need to excel at their current position or fit into a new position.
A typical skill matrix example might include competency levels. For example, you might create a rubric associated with competency, such as a scale from 1 to 5 with 5 indicating expertise. You can further define the skill level based on experience with the skill. And you can break down skills to categorize by technology, industry, and soft skills.
One side of the chart would identify the employee and the other side of the chart would identify the skill. So following the skills columns, you could easily see how many employees have the skill and at what level. You can highlight people who have the highest and lowest levels to create teams and identify areas where training is needed.
Your skills matrix can be updated as new skills become necessary. For instance, if you're upgrading to a new system or adding innovative workflows, you might need to address the new skill that is needed for the implementation. Are they currently on your skills matrix? Do you need to communicate with staff to see if any employees currently have experience in this field?
Skills Management Software
Your competency management software gives you a way to set up a database of skills. For your HR and hiring managers, skills management software gives them a robust tool to understand the workforce you currently have and find the gaps in your existing skills repository.
Your job skills database helps you effectively oversee the employees that currently work in your organization. You can also create various skills matrixes. You're not just getting a birds-eye view of the organization with your software. It also helps you understand specific departments and plan ahead for growth and scalability.
The management software can help you identify employees who can cross-train or fill in for other departments. It gives you better coverage and flexibility in cases where an employee might be out for an extended period of time.
Some benefits in using skills management software include:
Improved Training Initiatives. You can easily identify areas where your staff is less confident to provide training opportunities that benefit the company and individual employees.
Increased Productivity. The ability to match employees with their core competencies means that the work gets done faster and more efficiently.
Increased Employee Retention. Skills mapping isn't just good for the company. By identifying the employees' strengths and weaknesses, you can create an atmosphere that allows all employees to succeed and grow professionally.
Simplifies Internal Hiring. If your company promotes from within, the skills management software can help assess employees more accurately to identify solid candidates for promotion.
Skills management software allows your team to easily compile, store, and access information across your workforce, making the process of hiring and managing staff more efficient.