Skill Management Tool
The ready-to-use system of truth
Our platform is a best-in-class skill management tool. Don't let your skills and competency data remain unused inside a spreadsheet. Get the ability to create or extend your competency frameworks, customize job profiles, assign learning and development options, govern workflow and collaborate with other talent management applications.
Create
Ability to create, edit and compare multiple competencies, including: Skills, Experiences, Qualifications and Preferences that are required for job functions.
Map
Ability to map competencies, job grades, learning resources and other data to job profiles.
Calibrate
Job Profile calibration includes adjusting the level of proficiency and importance level of associated competencies across job profiles and grade levels.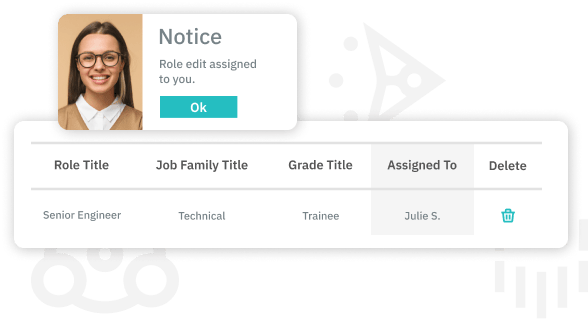 Govern
Manage entitlement, rules, roles and policies to seamlessly govern job role data.
A talent strategy that grows with you. Select a bundle to book a demo!
Recommended
Foundation
Automate your skills management process
Foundation includes:
Intelligent Role Studio
WorkforceGPT
Job and Skill Libraries
Basic Reporting
API
Basic
Assess current skills of your workforce & close gaps
All the Foundation features plus:
Talent Assessment
Development Planning
Reporting & Analytics
30+ languages
Core
Unlock employee skill & career development
All the Basic features plus:
Career Pathing
Certification Tracking
60+ languages
Pro
Measure the impact of upskilling on business performance
All the Core features plus:
Succession Planning
Performance Management
360 Feedback
Advanced Reporting & Analytics
90+ languages
Trusted by:


Additional information
A skill management tool can help your organization understand where their employees are and what the core competencies are for individual employees. Management can also plan future progress with a clear view of the gaps they need to fill. When you're looking for the best skills management software, it's important to have a firm list of the specific things that you're looking for in a program and a vendor.
Many companies will look for skills tracking software that offers employee skill management, skills mapping exercises, and robust reporting options to help human resources and management work to improve the process for employees and overall productivity. There are many choices in skills management software. Free options are available, and there are several options on the market in various price ranges to meet organization budgets. Skills mapping software designed to help your organization better define roles can be an excellent resource for managers looking to improve performance and add new talent.
Employee skill management solutions help you to see individual team members and give you an overview to clearly pinpoint where there are gaps that need to be filled. This can help with future training initiatives and to understand what qualifications should be prioritized in new and advancing staff members.
Talent Management System
Talent management software is more than a simple program to assess skills. Companies that use talent management software need a more robust solution. Often companies with a great many employees simply can't organize efficiently without a good talent management system. The talent management tools included in a full management system can help you organize from recruitment all the way through the lifecycle of your employees. The talent management software market is growing at a rapid pace. Companies have found performance management software, talent acquisition software, and solutions to bridge all of the skills assessments necessary to run a productive team essential.
Talent management systems examples provide tools to help managers organize the entire lifecycle for their staff for growth and higher productivity. With robust tools and reporting options, HR can streamline the recruitment process to find the right talent for their open positions. Once employees join the team, the tools also help with development, training, and overall performance. When used effectively, your talent management system improves the work experience for your employees and propels the organization's success.
Competency Matrix
A competency matrix is a fantastic tool to help your managers understand exactly what skills are present in the internal workforce. The employee skill matrix chart gives an overview of each employee and what skills they have. Why is this important? If you're putting together a team for a specific project, the best skills matrix software can help you quickly assess what type of talent you have and what you might be missing.
To create a skills matrix template, you would first decide what the objectives of the project are and what competencies are needed to ensure success. The competency matrix software can be used for specific projects, to help you get an overview of your workforce, to hire for specific departments, or to gauge areas where your team may be lacking overall. You can use the matrix to help you find employees with particular experience such as a background with a programming language. You can also use the matrix to pinpoint soft skills, which can be integral to company success but may be overlooked when assessing job requirements.
Competency Mapping and Assessment
Competency mapping and assessment is an important process to help your leadership oversee and manage the most important asset any organization has – its employees. Competency mapping software can help your team develop the data and insights necessary to fill gaps and manage current talent. Using competency mapping tools and developing customizable competency mapping templates can help large organizations create a more accurate measurement of the talent they have internally.
The competency mapping examples allow you to better understand your key staff and pinpoint ways to drive progress, both for individuals and the company itself. A great company culture offers development opportunities that benefit the staff while strategically positioned to help with company goals. A great competency mapping software helps your staff automate this process, taking the guesswork out of assessments. Your organization gets a comprehensive understanding of the particular skills that each employee has and management can make new development opportunities available in a proactive way.
Competency Management Software
A good competency management system allows your leadership to automate the employee lifecycle to a great degree. What this means is that your competency management program provides robust information to help management create opportunities for staff while improving company performance. The market is saturated with competency management software – free, basic, and more advanced models are available for every type of organization and budget.
Your competency management system allows you to streamline the recruitment and onboarding process by organizing internal information and pinpointing the skillsets that are needed in a prioritized way. With access to robust reporting, HR and management can work more proactively with individual employees and build an exact overview of staff members to develop more productive teams.
Competency management is essential to prepare new employees for a successful transition into company culture. A great system can help you develop training initiatives that help your staff succeed, which in turn makes your organization stronger and more competitive. The tools available through a great software solution can help your staff oversee performance and performance reviews and provides a great marker to help staff and management correctly assess compensation packages and benefits. Whether you're looking to fill gaps with new employees or interested in promoting employees from within, the data and analytics of a good system make your hiring choices precise and dependable.